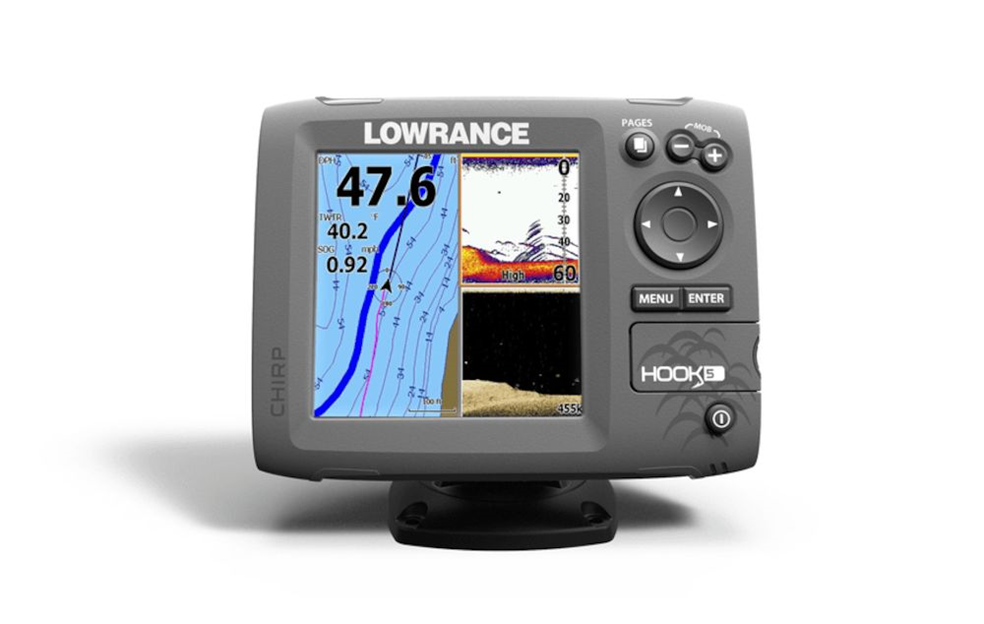 "https://www.lowrance.com/assets/img/default-product-img.png?w=400&h=225&scale=both&mode=max"
HOOK-5 Ice Machine with Ice Transducer
SKU: 000-12654-001
000-12654-001
The HOOK-5 combines the benefits of CHIRP Sonar and DownScan Imaging™ technology to give you a clear and complete view of the underwater environment beneath your boat. It features enhanced sonar sensitivity, excellent target separation and superior noise rejection, making it easier to see baitfish and gamefish targets. With a built-in GPS antenna and proven navigation features, revisiting your favorite fishing spot is simple with the HOOK-5, whether you use the base map, optional high definition chart upgrades, or your own Insight Genesis® custom maps.
Product details
The Lowrance HOOK-5 Ice Machine fish finder/chartplotter offers proven features and performance at a superior value, giving anglers the tools they need to pinpoint targets and structure beneath the ice. Featuring a high-resolution, 5-inch color display, the HOOK-5 Ice Machine is easy to use and comes with a portable ice-fishing pack, battery and transducer. The Ice Machine has built-in CHIRP Sonar for the best possible views beneath the ice and includes Advanced Signal Processing (ASPTM), an exclusive Lowrance technology that reduces the need to manually adjust settings to see fish, structure and bottom details. Equipped with a built-in GPS antenna, the HOOK-5 offers detailed U.S. maps featuring 1-foot contours on more than 3,000 lakes, plus the capability to create custom maps with C-MAP® Genesis. The Ice Machine is compatible with a broad range of mapping upgrade options, including C-MAP, Navionics® and more.
Key Features
CHIRP sonar technology: Combine the power of two CHIRP ranges for the ultimate in target separation and noise rejection
Hybrid Dual Imaging™ (HDI): The power of two award-winning technologies -- Broadband Sounder™ PLUS Exclusive DownScan Imaging™ -- combined to provide the best possible view of the water column and everything in it.
DownScan Overlay™: Exclusive technology overlays DownScan Imaging onto Broadband Sounder display for one stunning view that separates and clearly exposes fish targets from surrounding structure. Overlay transparency and color palettes are fully adjustable.
TrackBack™: Easily scroll back in sonar history to review covered areas and pinpoint spots (saves time and fuel trying to re-trace your path). With chartplotter models, simply mark a waypoint at your cursor location with the press of a button.
Advanced Signal Processing™: Reduces manual adjustments to automatically see fish, structure and bottom detail more clearly.
Reliable Navigation That's Easy To Use
Highly accurate, built-in GPS antenna plus a detailed U.S. map with more than 3,000 lakes and rivers, as well as coastal contours to 1,000 ft. A micro SD card can also be used to display Lake Insight™ and Nautic Insight™ HD and PRO cartography, as well as Navionics® Gold, HotMaps® Premium, Fishing Hotspots® PRO and Jeppesen C-Map Max-N Wide charts.
Create your own map from real sonar data that you record with the online Insight Genesis™ map creation service
Allows users to make their own custom, high-resolution contour, bottom hardness and vegetation maps from recorded sonar logs.
HOOK-5 Color Display: Lowrance-exclusive, high-resolution, 5-inch, color display provides brilliant visibility and viewing detail in all conditions.
All-New Page Selector: An easier-to-use menu system with quick access to all features using one-thumb operation.
Multi-Window Displays: Choose from as many as eight preset page layouts, including up to three panels in split-screen mode to view chart, Broadband Sounder™ and DownScan Imaging™ -- all on one screen simultaneously. Multi-Window view can be accessed while viewing live sonar and charting.
Supported by Lowrance Advantage Service program and limited one-year warranty.
Advanced Signal Processing

DownScan Imaging
Specifications
Display

Backlight Color

Pure White LED

Display Resolution

480 x 480

Screen Brightness

1500 nits

Viewing Angles

80° top/bottom, 85° left/right

Connectivity

NMEA 0183 Sentences supported

TX / RX - GPS Receive GGA GLL GSA GSV VTG ZDA Transmit GGA GLL GSA GSV VTG ZDA GLC TX / RX - Navigation Receive RMC Transmit AAM APB BOD BWC BWR RMC RMB XTE XDR TX / RX - Sonar Receive DBT DPT MTW VLW VHM Transmit DBT DPT MTW VLW VHM TX / RX - Compass Receive HDG HDT HDM Transmit HDG TX / RX - Wind Receive MWV MWD Transmit MWV MWD TX / RX - AIS / DSC* Receive DSC DSE VDM *AIS sentences are not bridged to or from NMEA 2000.

NMEA 2000 Connectivity

None

SD Card Storage

Micro SD Card - 32gb max.

Cartography

Charts supported

Lake Insight™ and Nautic Insight™ PRO, Navionics HotMaps® Premium and Fishing Hotspots® PRO. Global chart upgrade options include Navionics + and Jeppesen C-MAP MAX-N

Approvals

Approvals Compliance

FCC, Industry Canada, Radio Equipment Directive, ACMA, RSM

Electrical

Power Consumption max

1.0A

Power Consumption min

.05A

Power Consumption typical

.075A

Recommended Fuse Rating

3A

Supply Voltage

12v (10-17vDC)

Environment

Humidity

60°C, 95% relative humidity (RH) for 18 hours

Operating Temperature Range

5°F to 131°F (-15°C to 55°C )

Shock Vibration

100,000 cycles of 20 G

Storage Temperature Range

-40°F to 185°F (-40°C to 85°C )

Waterproofrating

IPX7 with card door closed

GPS

Position Accuracy

20m RMS

MFD

AIS

AIS Chart overlay. Target vessel details.

Cartography included

World reference basemap and enhanced U.S. basemap with over 3,000 enhanced lake maps with depth contour and shoreline detail, plus coastal depth contours/shoreline detail and spot depth soundings to 1,000 ft./305 m

GPS

Internal high-sensitivity WAAS + EGNOS + MSAS

Sonar Compatibility

Integrated: CHIRP, Broadband & DownScan

Waypoints, Routes, Tracks

3000 Waypoints, 100 Routes and 100 Trails with up to 10,000 points per trail

Physical

Mounting Type

Gimbal Bracket or Dash Flush Mount

Weight

1.60 lbs (0.70 kg)

Radar

Other

Interface

Keypad: 8-way directional keypad Zoom +/- Enter Menu Pages Light/Power MOB

Languages

Standard Language Pack: English, UK English, French, German, Italian, Spanish, Danish, Finnish, Greek, Norwegian, Portuguese, Sweedish, Afrikaans Eastern European Language Pack: English, UK English, French, German, Italian, Spanish, Bulgarian, Estonian, Croatian, Hungarian, Lithuanian, Latvian, Polish, Slovakian, Turkish, Czech, Romanian Russian/Ukranian Language Pack: English, UK English, French, German, Italian, Spanish, Russian, Ukranian Asian Language Pack: English, UK English, Japanese, Korean, Thai, Chinese-Simple, Chinese-Traditional, Vietnamese Middle Eastern Language Pack: English, UK English, French, German, Italian, Spanish, Arabic, Farsi

Warranty Period

5 Years Total 1 Year Full Warranty Replace 4 Years InService Upgrade