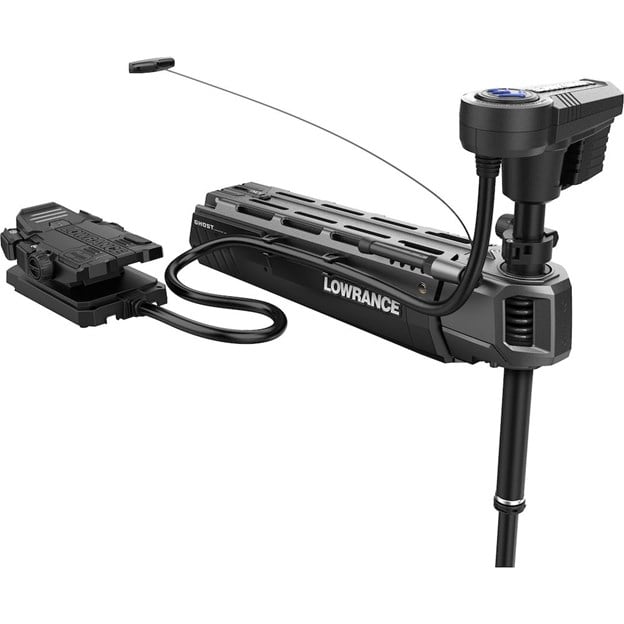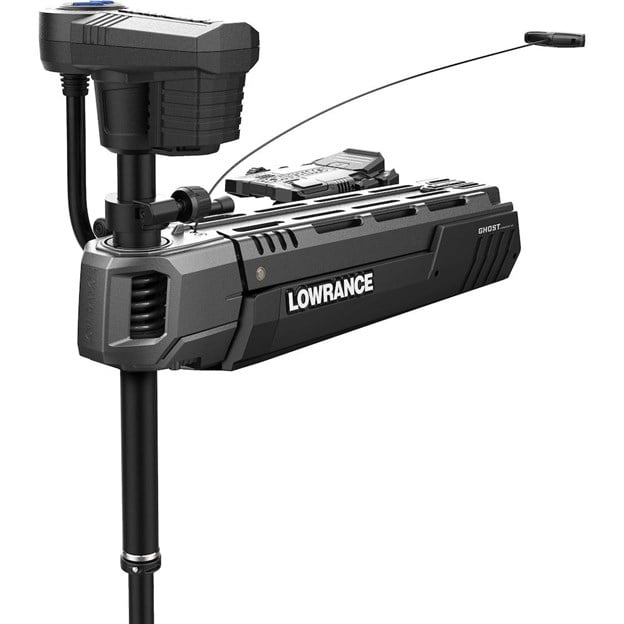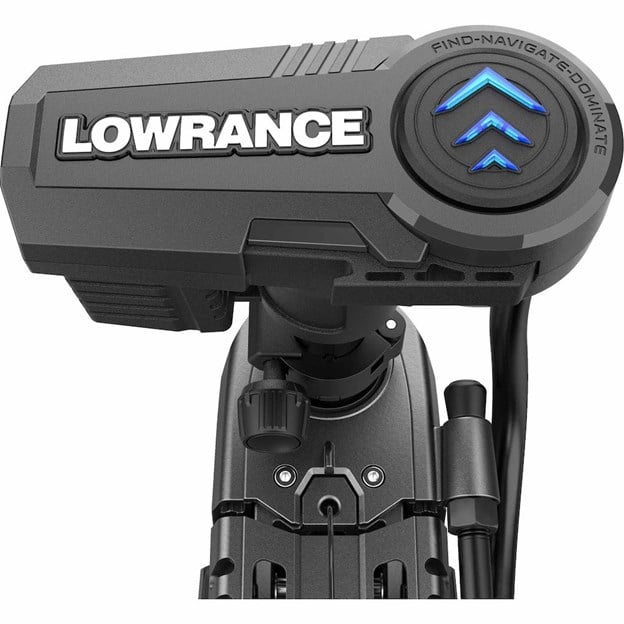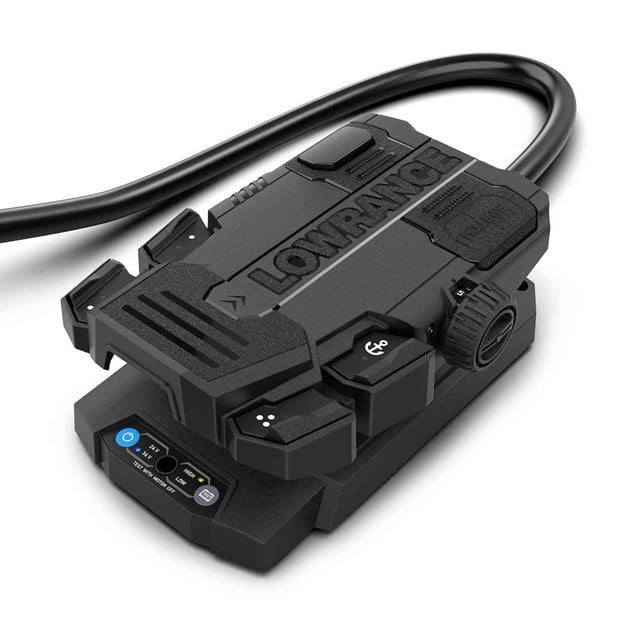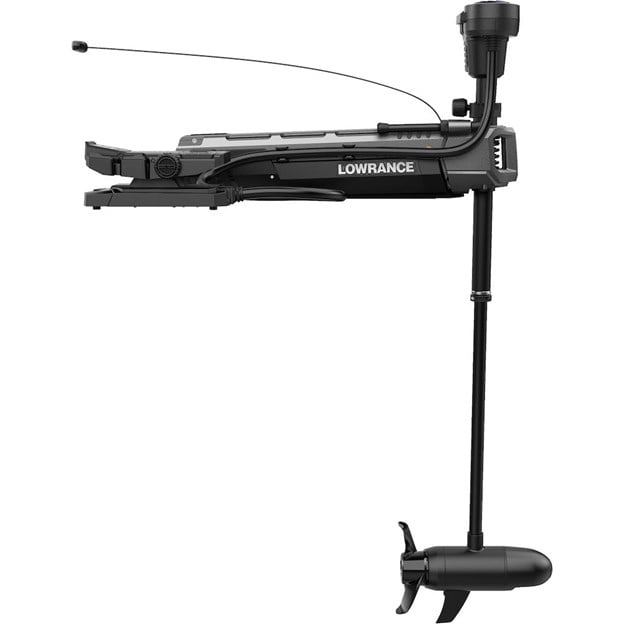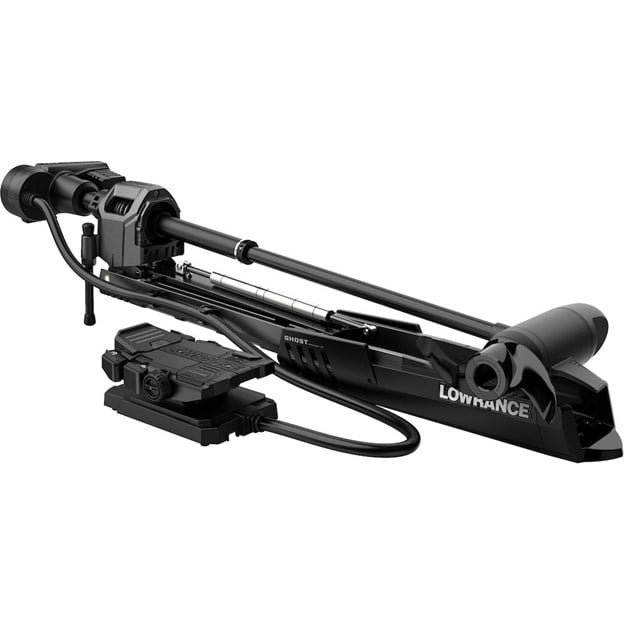 "https://www.lowrance.com/assets/img/default-product-img.png?w=400&h=225&scale=both&mode=max"
Ghost Trolling Motor
SKU: 000-14937-001
000-14937-001
Reliable, rugged and built to last, the new ultra-quiet Lowrance® Ghost™ freshwater trolling motor lets anglers fish longer, run faster and move in closer without spooking fish. Ghost has a revolutionary brushless motor with the most thrust and the longest run time of any trolling motor on the market. With integrated Lowrance sonar options, waypoint anchoring and a three-year warranty, Ghost is the new standard for your trolling motor upgrade.
Reliability
We put our 60-plus years of innovation and marine electronics expertise to work in designing the Lowrance Ghost freshwater trolling motor. After years of researching when and why trolling motors fail, we went to work to exceed those standards, building Ghost in-house, from scratch. Four years and 10,000 testing hours later, we have delivered the quietest, most reliable, and most powerful trolling motor on the market.
Silent Operation
So silent, you'll wonder if it's running, Ghost allows you to move in closer than ever before with its ultra-quiet brushless motor. Fish will never hear you coming.
Incredible Performance
Zoom from spot to spot or zip across the cove with up to 25-percent more thrust than competing models. Ghost's brushless motor also delivers 60-percent better run-time efficiency, so you can enjoy the best top-end speed and acceleration without sacrificing battery life. Stay out later and run it harder – you will fish longer with Ghost.
Own Your Spot
Ghost's powerful and precise anchoring lets you anchor your boat on a waypoint, at your current location or anywhere on the map – regardless of wind conditions – so you can spend more time fishing and less time maintaining your position. With a simple press of your foot, you can lower or raise your Power-Pole® shallow-water anchor or anchor at your current location using the quick access keys built into the Ghost foot pedal.
Total Integration
Steer your boat, adjust your speed, set up route navigation or anchor at your current location with full touchscreen control from HDS LIVE, HDS Carbon, Elite FS and Elite Ti² displays. Our Pro Team anglers asked us to build a trolling motor with full integration capability, including a foot pedal that could serve as an extension of the display's user interface. We listened – delivering an all-everything pedal with easily accessible Anchor and Heading Mode quick access keys, plus programmable shortcut keys that can be used for saving waypoints and controlling Power-Pole shallow water anchors.
Plug-and-play Lowrance Sonar
Ghost is packaged with an HDI nosecone transducer, giving you the high-level performance of Lowrance CHIRP sonar and DownScan Imaging™ right out of the box. Anglers who want to step up to the extreme, high-resolution views beneath and to the sides of the boat can add an optional Active Imaging™ 3-in-1 nosecone with Lowrance CHIRP, SideScan and DownScan Imaging.
Fly-By-Wire Steering
Instant and smooth fly-by-wire steering control gives Ghost the feel of a traditional cable-steer motor, but without the physical cables that wear out over time.
Configurable Foot-pedal
Configure the Ghost pedal to suit your preferences via programmable shortcut buttons and a Flip Switch that allows the trolling motor to be driven from either side of the pedal. The foot pedal features a battery-level indicator, Anchor and Heading mode quick access keys with LED lights and an indicator beep to provide feedback when a mode is engaged. You can program the shortcut keys to quickly drop a waypoint or lower/raise your Power-Pole shallow-water anchor.
Interference Free
Ghost's brushless motor not only runs quieter than common brushed motors, but emits zero electromagnetic interference, ensuring the clearest, interference-free sonar views on your fish finder display.
Flexible Installation
The Ghost trolling motor is designed to work with either 24- or 36-Volt systems, making it compatible with any set-up and easier to implement future upgrades to batteries and chargers.
360-Degree Breakaway Mount
The 360-degree breakaway mount is designed to absorb impact, allowing the shaft to deflect away from obstructions and then reposition itself after impact. An integrated stabilizer bar reduces bouncing when running in rough water.
TMR-1 Remote
Set anchor and control the speed and direction of the Lowrance® Ghost trolling motor from anywhere on your boat with the lightweight and easy-to-use TMR remote control.
Easy to Stow and Go
Ghost has a dual-action gas spring that makes stowing and deploying the motor easier and quieter. Plus, there is no longer a need to align the lower unit before stowing the motor as Ghost auto aligns itself when stowing to lay flat and secure on the mount.
Specifications
Motor
Shaft Length

47", 52", or 60"

Usage

Freshwater Use Only

Mounting Location

Bow

Mount Style

Scissor Style Mount

360 Degree Breakaway

Yes

Max Thrust

120 Lbs At 36v; 97 Lbs At 24v

Voltage

24v Or 36v

Steering

Fly-By-Wire Steering

Lift-Assist

Dual Action Gas Spring

Compass

External And Included

Gps

Internal

Warranty

3-Year, Lifetime Warranty On Shaft
Sonar
Included

Hdi Sonar Nosecone

Frequencies Supported

Medium/High Chirp Sonar, 455/800 Khz

User Upgradable Sonar

Active Imaging 3-In-1

Depth/Temperature

Depth And Temperature

Number Of Pins

Mini 9-Pin To 9-Pin Lowrance Adaptor Included
Autopilot Features
Custom Routes

Yes

Anchor Lock

Yes

Heading Lock

Yes

Constant On

Yes

Turn Patterns

Yes
Foot Pedal
Dimensions

11 ¾" L, 7 ¼" W, 4 ½"

Flipswitch

Yes

Programmable Shortcut Keys

Yes

Waterproof Rating

Ipx7
Key Features
Reliable
Silent Operation
Fastest Top-End Speed
Total Integration with HDS LIVE, HDS Carbon and Elite Ti²
Fly-By-Wire Steering
Plug-and-Play Lowrance sonar
Configurable Foot-pedal
Interference Free
Flexible Installation
360° Breakaway Mount
Easy to Stow and Go