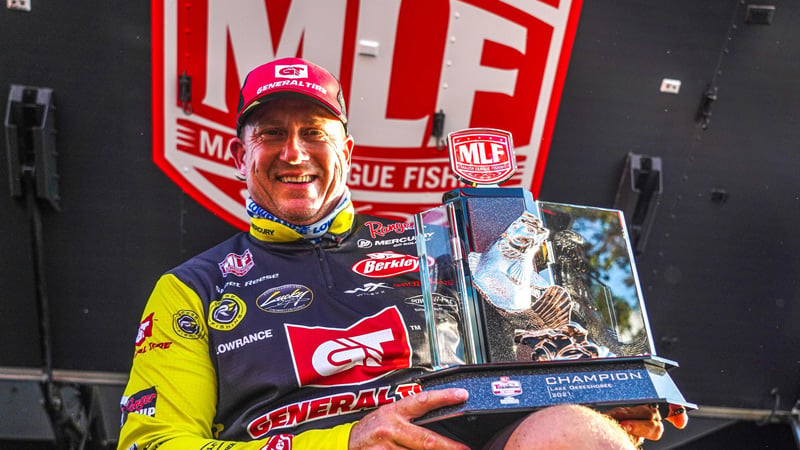 Tulsa, Okla. – Lowrance®, a world-leader in fishing electronics since 1957, kicked off the 2021 tournament season with another winning performance, as Lowrance pro angler Skeet Reese claimed the Major League Fishing (MLF) Tackle Warehouse Pro Circuit title on Lake Okeechobee in Clewiston, Florida, February 11-14.
Equipped with the Lowrance Utimate Fishing System, including HDS LIVE displays, new, high-resolution ActiveTarget™ Live Sonar, Active Imaging™ 3-in-1 and Ghost® Trolling Motor, Reese finished the tournament with a total weight of 82-pounds, 14-ounces to bring home the $100,000 prize. Lowrance continues its sponsorship of the 2021 MLF season, with the next event, Redcrest 2021, scheduled for February 22-26.
For his career, Reese, of Auburn, Ca., now has 10 tournament titles, a 2007 Bassmaster Elite Series Angler of the Year title and a 2009 Bassmaster Classic championship. He is also one of the top five tournament money-winners of all-time. With his victory this weekend, his career earnings now total more than $3.5 million.
Due to COVID-19 protocols, attendance at the tournament is limited to competing anglers, essential staff and media covering the event. Fans are encouraged to follow the event online through the MLF NOW!® live stream and SCORETRACKER® coverage at MajorLeagueFishing.com.
HDS Ultimate Fishing System Upgrade Underway
Anglers looking to upgrade their boats with the same equipment Reese used in his victory on Lake Okeechobee, can save up to $800 during the Lowrance Ultimate Fishing System Upgrade, running through March 31, 2021. Visit www.lowrance.com/offers/hds-ultimate-upgrade/ for details.