2017 will see the 5th edition of the Barracuda Tour take place in Port du Crouesty–Arzon, France. The event has become a key tournament for professional anglers across the globe with previous editions attracting 515 attendees, 40 boats, 15 nationalities and over 540 catches*. These numbers speak volumes to the success and popularity of the Barracuda Tour and highlight why Lowrance, world-leading brand in fishing electronics since 1957 has decided to sponsor the event again in 2017.
Lowrance is the manufacturer of choice for competitive anglers, helping pro's win major titles across the globe. Just last month Lowrance won their sixth consecutive Bassmaster Classic Championship with Jordan Lee winning the 2017 event on Lake Conroe in Houston, Texas. All crews participating in the Barracuda Tour 2017 will use Lowrance equipment during the competition. With a range of features geared towards professional anglers including StructureScan® HD with SideScan and DownScan Imaging™ participants will have the opportunity to step up their game and catch more fish with the help of the latest innovations in marine electronics from Lowrance. They will also get the opportunity to use a free fishing contour chart downloaded from the C-Map Genesis community, 100% compatible with Lowrance equipment.
The competition will see 40 boats take to the water to compete for the coveted champion's title. Lowrance will not only sponsor the event, but a dedicated Lowrance team will also compete with its own boat, a Barracuda 8. The Lowrance boat will be equipped with two new HDS Carbon fishfinders/chartplotters. These brand new units feature a high-performance dual core processor, a multi-touch SolarMAX™ HD screen with the widest available range of viewing angles, a dual channel CHIRP and a Network Dual Sounder, allowing the Lowrance team to switch between applications and simultaneously view independent sonar feeds with ease.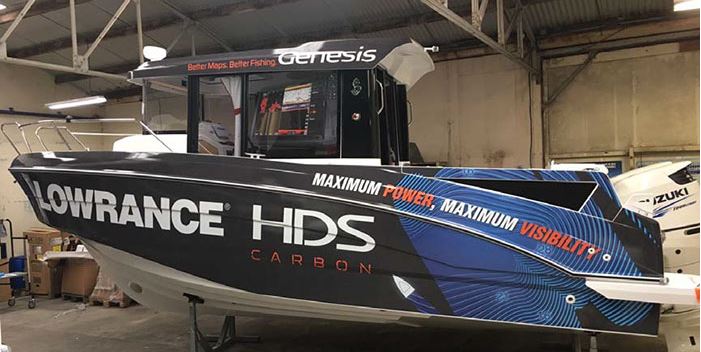 The Lowrance range of fishfinders/chartplotters offer a range of features dedicated to professional anglers to help them get the most of out the varied conditions they may face in an unfamiliar tournament location. StructureScan3D®, is a perfect example, providing anglers with a three-dimensional view beneath the boat, giving them a better understanding of where fish and structure are located in relation to their boat. This important fishing tournament will take place in Port du Crouesty - Arzon from 12th – 21st May. The key dates are 12th-14th May for the Challenge Amateurs, when the crews will be competing to qualify for the Grande Finale, which will take place from 18th - 20th of May.