Founded by Darrell J. Lowrance, the company revolutionized the fishing industry with the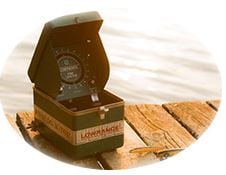 design and manufacture of the original FISH LO-K-TOR – the first transistorized sonar product to display individual fish and show their depths. The FISH LO-K-TOR is one of the most prolific sonar devices ever produced, with over 1 million sold from 1959 to 1984. Throughout its long and successful history, Lowrance continued to break new ground in marine electronics and is credited with introducing the first sonar unit to include a micro-processor; patenting a low-profile Skimmer® transducer capable of high-performance at boat speeds up to 70 mph; introducing the world's first hand-held GPS for under $500; developing the world's first liquid-crystal display (LCD) product with integrated GPS, mapping and sonar capabilities; and patenting a sonar system with an interactive display.

Timeline of Notable Events:
1959 – Lowrance introduces the first FISH-LO-K-TOR portable sonar unit, also known as the "Little Green Box". It quickly becomes the most popular sonar in the world – with more than 1 million produced between 1959 and 1984.
1974 – Lowrance produces its first graph recorder, the LRG-600, combining a flasher and a paper chart in one box.
1979 – Lowrance introduces the LDD-1800, one of the first digital depth sounders to be controlled by a tiny, built-in computer. It shows only the bottom depth in large digital numbers and requires no controls. This is Lowrance's first completely automatic depth sounder.
1982 – Lowrance unveils the X-15. This computerized chart uses a 10-key keypad instead of a range knob. Another innovative feature is its capability to show separate targets that are as little as one-inch apart -- something no other sonar unit of any kind could accomplish.
1985 – Lowrance introduces the legendary X-16 paper graph recorder, which is selected by a team of scientists to be the sonar used in Operation Deepscan – an expedition to explore Scotland's Loch Ness.
1988 – Lowrance diversifies into the navigation market and introduces its first Loran-C products, the LMS-200 and LMS-300. Boasting wide LCD screens, these dual-purpose units have both a Loran-C receiver and sonar capabilities. These are also the first units with menus, making it easy to fine-tune the device.
1995 – Lowrance introduces the GlobalMap 2000, the world's first LCD product to offer integrated GPS, mapping and sonar capabilities.
2006 – Lowrance is purchased by Simrad Yachting. This merger creates Navico, now the largest recreational marine electronics manufacturer in the world.
2008 – Lowrance announces a complete overhaul to its line of GPS and sonar devices with the introduction of the Lowrance High Definition Systems (HDS). These multifunction displays mark the first use of the renowned Navico Operating System (NOS), and greatly extend the functionality of the Lowrance line to include radar, AIS, real-time weather, integrated audio and advanced sonar imaging options.
2009 – Lowrance makes sonar history with the introduction of its game-changing DownScan Imaging™, giving anglers a photo-like image of what is directly beneath their boat. Rocks look like rocks, trees look like trees and fish look like fish.