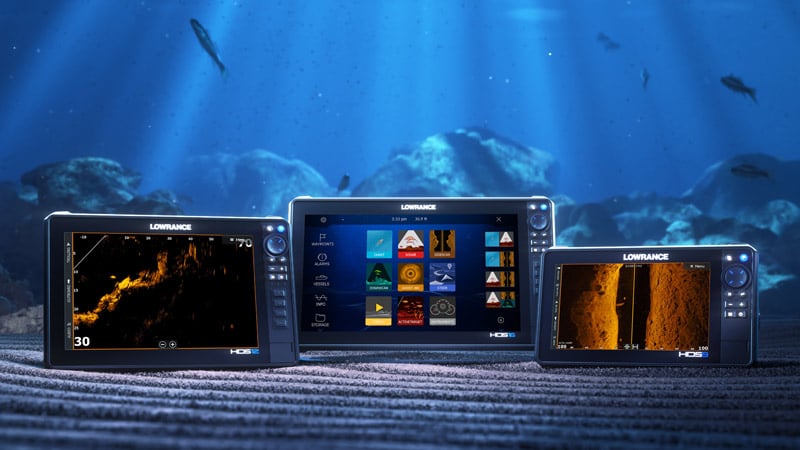 TULSA, Okla. – Lowrance®, a world-leader in fishing electronics since 1957, has rolled out its next generation of fishing electronics this week. The new HDS PRO® chartplotter/fishfinder, highest resolution ActiveTarget™ 2 Live Sonar and, ultra high-definition Active Imaging™ HD provide anglers the complete package of the latest fishfinding technology that has helped them find and catch more fish for over half a century.
HDS PRO forms the heart of the Ultimate Fishing System, offering full networking and bow-to-stern boat control spanning trolling motors, autopilots, engines, radar, communications, and connectivity and control of PowerPole® shallow water anchors. The new HDS PRO introduces new, expanded controls for the Ghost® Trolling Motor such as Orbit Waypoints, Depth Routing and Anchor at a distance, while offering chart overlays for ActiveTarget Scout mode and Ghost 360. Additionally, HDS PRO reintroduces the 10-inch display, an angler favorite, with a new form factor and aspect ratio, delivering a better screen in a new package.
ActiveTarget 2 is the newest update to the award-winning ActiveTarget live sonar that was unveiled in 2020 and quickly became a mainstay for the world's best anglers and professionals of Major League Fishing. Active Target 2 provides higher-resolution views of fish movement and structure and enables anglers to quickly recognize if lures and techniques are working in real-time allowing them to make adjustments to get fish to strike. It delivers a smoother and more consistent image across the entire range, with full live-action picture in Forward, Down and Scout views. Additionally, HDS PRO allows for the use of two systems at the same time giving even more views simultaneously with 180 View, Scout Wide View and Forward and Scout split screen view.
Active Imaging HD rounds out the suite of products with the clearest images of fish and structure from Lowrance® CHIRP sonar, SideScan and DownScan Imaging™. Additionally, a new FishReveal™ SideScan view is now available with a new S3100 Sonar Module, in addition to the already popular DownScan Fish reveal view, helping anglers easily identify fish targets to the sides and beneath the boat.
"All of these new technologies we are introducing are aimed at helping anglers find, see and catch more fish, by providing the full suite of tools and the highest resolution and clearest images of fish and structure to date," said Jeremiah Clark, VP & General Manager, Fishing Systems at Navico Group. "Lowrance continues to innovate with remarkable new products and offerings, and we are confident anglers will love these latest products".
HDS PRO offers complete bow to stern control on a SolarMAX™ HD touchscreen, which provides stunning sonar images of fish and structure from the Active Imaging HD and ActiveTarget 2 Live Sonar technologies, along with incredible detailed chart information that is easy to see from any angle, in direct sunlight and through polarized lenses – a real difference on the water.
In North America, pre-loaded C-MAP® charts on the HDS PRO include full-featured vector charts, custom depth shading, high-resolution coastal coverage and 1-foot contours on more than 27,000 lakes across the U.S. and Canada along with the new chart overlay option, allowing you to view ActiveTarget Scout Mode or Ghost 360 trolling motor mode directly on the chart screen. For anglers that want to select their own chart, HDS PRO supports a wide range of third-party chart options, including C-MAP REVEAL™, Navionics, Florida Marine Tracks and more.
The HDS PRO fishfinder is available in 9-inch, all new 10-inch, 12-inch and 16-inch display sizes.
Key Features
High-definition Active Imaging HD-ready with Lowrance CHIRP/SideScan/DownScan Imaging

High-resolution ActiveTarget 2 Live Sonar-ready

Supports two ActiveTarget Systems for multiple views simultaneously

Supports new FishReveal SideScan view with a new S3100 Sonar Module

Support for new ActiveTarget Scout mode and Ghost 360 chart overlay views

Expanded controls for the Trolling Motors, including Orbit Waypoints, Depth Routing and Anchor at a distance

SolarMAX™ HD Touchscreen viewable at extreme angles and through polarized lenses

Large programmable keys for 10-inch, 12-inch & 16-inch sizes

Touchscreen control of Lowrance and MotorGuide Trolling Motors, Autopilot, Lowrance Outboard Pilot and Power-Pole® shallow water anchors
NMEA 2000®, Wireless and Bluetooth®, connectivity – plus smartphone notifications

Preloaded C-MAP DISCOVER OnBoard charts with 1-foot contours on more than 27,000 lakes across the U.S and Canada or worldwide basemap.

Wide range of optional chart upgrades including C-MAP® REVEAL, Navionics®, Florida Marine Tracks and more.
---
About Lowrance
Lowrance® is part of Navico, a division of Brunswick Corporation's (NYSE: BC) Advanced Systems Group, and has been a leader in marine electronics and sonar technology since first inventing the original consumer fishfinder in 1957. It features a brand portfolio that is dedicated to helping anglers find and catch more fish, and includes the industry-leading HDS LIVE™, Elite FS™, HOOK Reveal™ Chartplotters & Fishfinders, ActiveTarget™ and Active Imaging™ Sonars and Lowrance Ghost™ Trolling Motors. Lowrance is distributed in more than 100 countries worldwide. More information is available at lowrance.com.
About Navico Group
A division of Brunswick Corporation (NYSE: BC), Navico Group is the world's leading supplier of integrated systems and products to industries ranging from marine to recreational vehicle and beyond. The Navico Group portfolio is comprised of industry-leading brands in power management, digital control & monitoring, networked devices, and marine electronics. Some of the many brands that make up Navico Group include: Ancor, Attwood, B&G, BEP, Blue Sea Systems, C-Map, CZone, Garelick, Lenco, Lowrance, Marinco, Mastervolt, MotorGuide, Progressive Industries, ProMariner, RELiON, Simrad, and Whale.