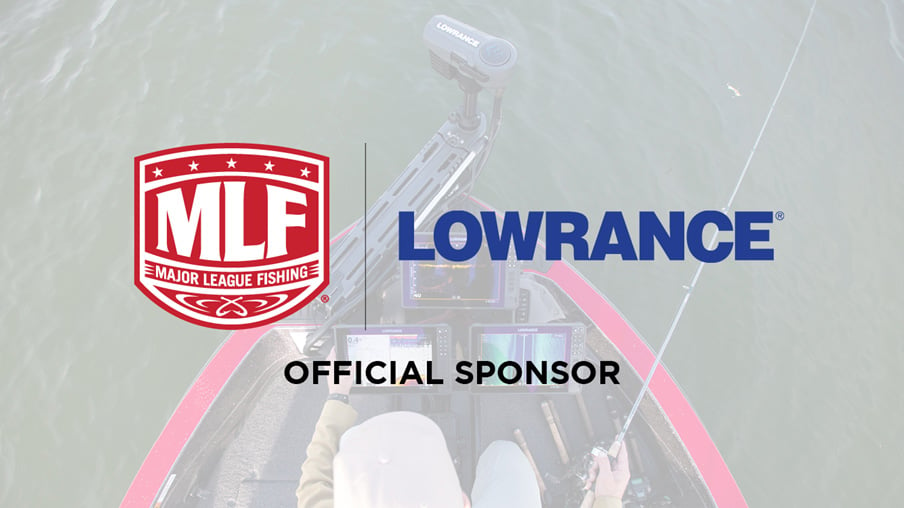 Tulsa, Okla. – Major League Fishing (MLF), the world's largest tournament-fishing organization, announced today that Lowrance®, a world-leader in fishing electronics since 1957 and longtime partner of MLF, has re-signed a multi-year agreement to remain the exclusive marine electronics provider and co-exclusive trolling motor sponsor for the MLF Cups, General Tire Heavy Hitters event and MLF5 circuits, and an official sponsor of the MLF Bass Pro Tour. The agreement will mark the 11th and 12th consecutive years that the two companies have partnered.
C-MAP®, the premium mapping solution for anglers looking for accurate and quality data, and the Lowrance Ghost® trolling motor will also have a prominent presence across all of MLF's platforms, including all MLF television programming and livestreams, Bass Fishing magazine, the MLF and the MLF5's social media outlets, MajorLeagueFishing.com, participation in MLF giveaways, and featured logo placement on angler boats and jerseys in the MLF Cup and General Tire Heavy Hitters events.
"The Lowrance team have been fantastic partners, and we're thrilled to continue our relationship with them," said MLF President and Chief Executive Officer Jim Wilburn. "Our sponsorship business has grown steadily the past few years, but renewals with the brands rooted in our sport like Lowrance speaks volumes about the value our partners see in continuing to align with MLF and reach our loyal and passionate fans and anglers."
The extension follows previous successful collaborations between MLF and Lowrance®. In addition to having title sponsored some of MLF's biggest tournaments, including the MLF Abu Garcia College Fishing National Championship, Lowrance continues to work closely with several top MLF anglers such as previous REDCREST champions Edwin Evers and Dustin Connell, record-breaking Randy Howell – who just last week weighed in the largest bass ever caught in Bass Pro Tour competition, 12-pounds, 14 ounces – and Bradley Roy, who won the first regular-season Bass Pro Tour event of 2022 last week in Monroe-West Monroe, Louisiana.
"Partnering the Lowrance and C-MAP® brands across all Major League Fishing properties provides a unique opportunity to develop compelling, storytelling content about our award-winning HDS Fishing System from high-school and college teams to some of the best bass-fishing anglers in the world," said Gordon Sprouse, Marketing Director for Navico. "Continuing our long-standing relationship since the early days of the first MLF Cups has been an incredible journey – one that has seen both of our brands grow at an incredible rate, while also creating fantastic consumer reach that continues to attract new audiences and increases exposure for the sport we love."
Now through April 30, anglers can save $200 on ActiveTarget® Live Sonar, $200 on HDS LIVE™ 7 fishfinder displays, $300 on HDS LIVE 9, $400 on HDS LIVE 12, $500 on HDS LIVE 16, $700 on the HDS LIVE 9 and 12 display bundle or $800 on HDS LIVE Dual 12 display bundles – plus an additional $200 cash back when purchased with Ghost® Trolling Motor, HALO® Radar (24, 20+ or 20) or the Lowrance Outboard Pilot. For more information on Lowrance and their latest offers and promotions, visit www.lowrance.com/offers.
For complete details and updated information on Major League Fishing, its tournaments, and sponsors, visit MajorLeagueFishing.com. For regular updates, photos, tournament news and more, follow MLF's social media outlets at Facebook, Twitter, Instagram, and YouTube.