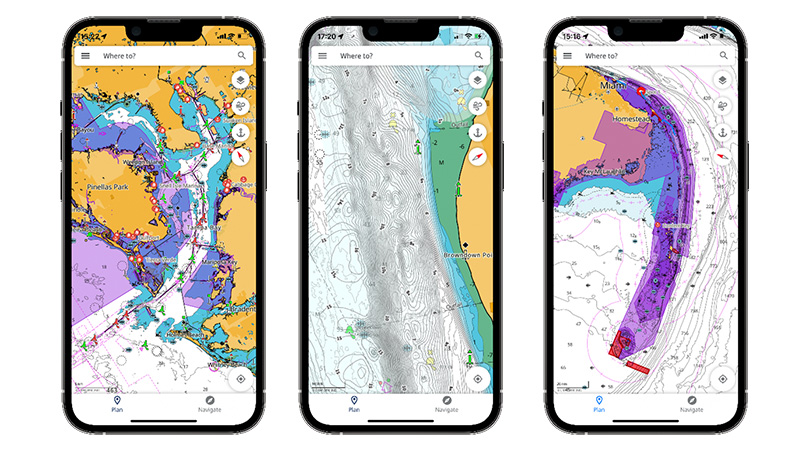 Tulsa, Oklahoma – The Lowrance® App powered by C-MAP charts has made its crowd-sourced mapping data called "Genesis" available free to users of the app across smart phones and tablets for both iOS and Android platforms.
The Genesis layer allows all users across the world the ability to see C-MAP's extensive crowd-sourced database of marine mapping data that has been reviewed and quality controlled by C-MAP engineers before being published to the public as an option to view on the app's charts. Through this user-generated data, precise 1-foot contour detail is now available for once uncharted water systems. With features such as custom depth shading, social maps help users know more about what's beneath and navigate new waters safely.
"C-MAP's social maps have revolutionized freshwater fishing, as well as offers huge advantages to saltwater anglers," said Simon Conder, Global Head of Brand, Lowrance. "We know anglers of all kinds will enjoy this Genesis layer option for added detail and information on their app that will help them find and catch more fish."
The Genesis layer itself adds more than 30,000 submissions to C-MAP charts and can be especially useful for small, inland lakes where government cartography agencies have not reached or have not updated official data for decades. The U.S. and Nordic regions, in particular, have been very active in user-generated mapping data and uploads, although sonar logs have been submitted from over 80 countries since its inception providing a big global footprint.
The app's charts have also seen the introduction of the Marine Protected Areas (MPAs) layer in select countries. This new free feature allows users to identify the boundaries and regulations of any surrounding MPA and know where they can and can't fish in the United States and Australia – with more countries to be added in the future.
User uploads to Genesis have logged nearly 1 million total hours on the water over the past half decade to supplement official charting data provided by government bathymetric agencies across the world.
Also added this month to the Lowrance App is a promotional referral program which provides six months of free high-resolution bathymetry (HRB) to any user across the world that refers three new users to Lowrance® App. To refer friends, simply share the unique link from the dropdown in the main menu, and choose how to share (via Social Media, WhatsApp, text message, etc.). Users will automatically receive six months of free HRB when three friends install the App.
---
Contact
Kim Rodriguez
PR Manager, AMER
kim.rodriguez@navico.com
---
About Lowrance
Lowrance® is part of Navico, a division of Brunswick Corporation's (NYSE: BC) Advanced Systems Group, and has been a leader in marine electronics and sonar technology since first inventing the original consumer fishfinder in 1957. It features a brand portfolio that is dedicated to helping anglers find and catch more fish, and includes the industry-leading HDS Live™, Elite FS™, Hook Reveal™ Chartplotters & Fishfinders, ActiveTarget™ and Active Imaging™ Sonars and Lowrance Ghost™ Trolling Motors. Lowrance is distributed in more than 100 countries worldwide. More information is available at lowrance.com.