Tulsa, Okla. – Lowrance®, a world-leader in fishing electronics since 1957, is pleased to announce that Lowrance pro angler Dustin Connell secured a decisive win at the Major League Fishing (MLF) Bass Pro Shops REDCREST 2021 tournament on Lake Eufuala in Eufaula, Alabama, February 22-26.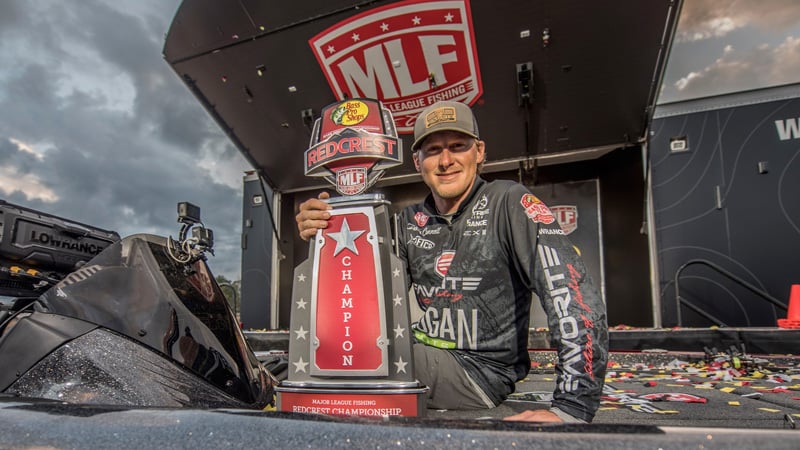 Equipped with the Lowrance Utimate Fishing System, including HDS LIVE displays and new, high-resolution ActiveTarget™ Live Sonar, Connell capped the tournament with a 36-pound, 15-ounce haul in the championship round to bring home the $300,000 prize. Six of the top 10 finishers at the tournament used Lowrance HDS systems with new ActiveTarget Live Sonar.
Hailing from Clanton, Alabama, Connell burst onto the professional fishing scene in 2017, winning the fourth Bassmaster Elite event he fished (at Ross Barnett Lake in Mississippi), on his way to claiming 2017 Bassmaster Rookie of the Year honors. Connell has 16 Top 10 finishes in his career and more than $700,000 in winnings.
Lowrance pros have won both REDCREST Championships with Edwin Evers winning the inaugural event in 2019.
"Winning the REDCREST is a dream come true," said Connell. "I never would've won today without ActiveTarget. I would have just been casting randomly and getting hung up on the brush. Instead, I could see the fish before I even threw in, see how they were reacting and I could watch my bait the whole time. The number one factor in my success today, was ActiveTarget."
Due to COVID-19 protocols, attendance at the tournament is limited to competing anglers, essential staff and media covering the event. Fans are encouraged to follow the event online through the MLF NOW!® live stream and SCORETRACKER® coverage at MajorLeagueFishing.com.
HDS Ultimate Fishing System Upgrade Underway
Anglers looking to upgrade their boats with the same equipment Connell used in his victory on Lake Efaula, can save up to $800 during the Lowrance Ultimate Fishing System Upgrade, running through March 31, 2021. Visit www.lowrance.com/offers/hds-ultimate-upgrade/ for details.