Tulsa, Okla. – Lowrance®, a world-leader in fishing electronics since 1957, continues to dominate the 2021 tournament season as Lowrance pro angler John Cox took home the trophy and $100,000 at the Major League Fishing (MLF) Tackle Warehouse Pro Circuit event at Lewis Smith Lake, in Cullman, Alabama, March 11 – 14, 2021.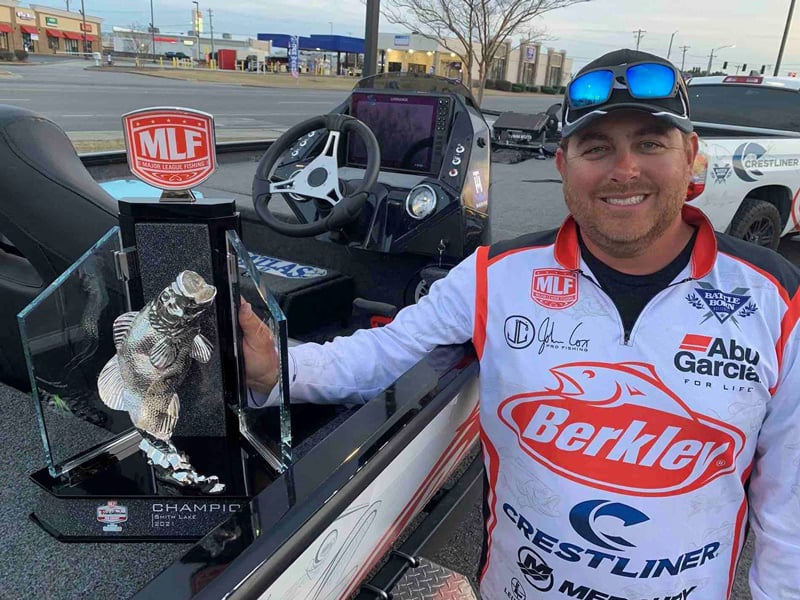 The DeBary, Florida pro had a number of runner-up finishes on this lake in the past; however, his shallow-water fishing technique, coupled with his Lowrance HDS LIVE fishfinders and new preloaded C-MAP® Contour+ charts resulted in landing 20 fish for a total of 62-pounds, 4-ounces. Five of the top 10 anglers in this event were equipped with Lowrance HDS displays.
"One of my favorite features of my Lowrance system is that I'm able to save waypoints and take notes on each spot," said Cox. "I have waypoints saved from the many times I've fished this lake, some even from 10 years ago. I was able to read my notes and match the conditions and run straight out to spots I haven't re-visited in 10 years. It was a game changer!"
Overall, tournament reports indicated more anglers fish with Lowrance HDS fishfinder displays at this MLF Pro Circuit event, versus all other marine electronics brands combined. In addition, nearly one-third of all 163 competitor boats were outfitted exclusively with the Lowrance Ghost® freshwater trolling motor, which was just introduced to the market slightly more than one year ago.
Due to COVID-19 protocols, attendance at the tournament is limited to competing anglers, essential staff and media covering the event. Fans are encouraged to follow the event online through the MLF NOW!® live stream and SCORETRACKER® coverage at MajorLeagueFishing.com.
HDS Ultimate Fishing System Upgrade Underway
Anglers looking to upgrade their boats with the same equipment Cox used in his victory on Lewis Smith Lake, can save up to $800 during the Lowrance Ultimate Fishing System Upgrade, running through April 30, 2021. Visit www.lowrance.com/offers/hds-ultimate-upgrade/ for details.