WHY DO I NEED A SONAR AND HOW DO THEY WORK?
With sonar, you can focus your fishing on areas where you see fish or fish-holding areas like rocks, drop-offs, ditches, trees, logs, etc. Without sonar, it is much harder to catch fish since you don't know where they are or where to find areas they like to hide.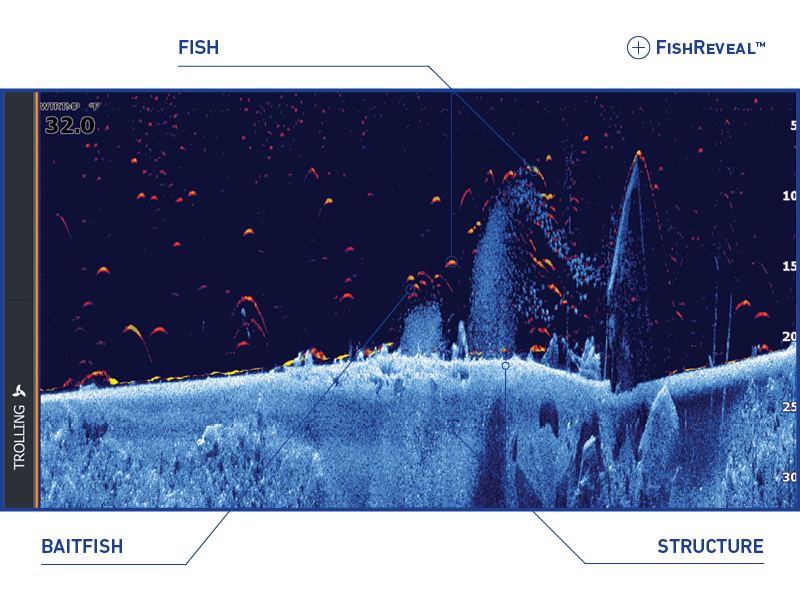 WHAT IS A TRANSDUCER?
Transducers, commonly installed on a boat's transom, inside the hull (shoot-thru hull or thru hull) or on a trolling motor, transmit sonar signals (pings) into the water column and then receive the echoes from those transmissions.
CHIRP SONAR
See fish, structure and the bottom with greater clarity — right out of the box — with Lowrance CHIRP, which delivers the best views of individual fish targets, even when targets are close to the bottom or suspended in tight schools.
DOWNSCAN WITH FISH REVEAL
DownScan Imaging™ makes it easier to identify how fish are relating to structure, providing photo-like images of rocks, trees, bottom composition and other underwater structure directly beneath the boat. FishReveal™ takes the high-resolution images from DownScan Imaging and combines them with the target separation and traditional sonar fish arches of CHIRP sonar, making it easier to see fish.
SIDESCAN - ACTIVE IMAGING
Perfect for searching large areas for fish-holding structure, SideScan provides views up to 600 feet to each side of the boat, allowing you to cover more water in a shorter period of time, and view areas too shallow for your boat – like next to the shore or bank. Active Imaging 3-in-1 brings our most popular sonar – Lowrance CHIRP, SideScan and DownScan Imaging™ – together into one transducer.
FORWARD VIEW - ACTIVETARGET LIVE SONAR
View what's happening in front of your boat. ActiveTarget Live Sonar delivers high-resolution images of fish swimming around structure and responding to your lure – as it happens. With real-time views of fish relating to structure and responding to lure presentations, you can make quick adjustments to make them strike. ActiveTarget also has down and scout views.
STRUCTURESCAN 3D
Get a real-world, three-dimensional view of fish, structure and bottom contour that makes it easier to know where fish and structure are located in relation to your boat.
SCANNING SONAR
Transmitting at 455kHz or 800kHz frequencies, scanning sonar provides high-resolution views to the sides (SideScan) and beneath (DownScan Imaging) the boat. 800kHz provides the sharpest resolution at shallower depths, while 455kHz delviers the best overall image quality and depth penetration.
HDI
HDI is a transducer that combines a round traditional sonar element, and a DownScan bar.
SINGLE ELEMENT TRANSDUCERS
Transducers with a single element are capable of transmitting two alternating frequencies. The Lowrance Skimmer for example, can transmit 83 and 200kHz frequencies or Medium and High CHIRP ranges.
MULTIPLE ELEMENT TRANSDUCERS
Act like a single element transducer, but are made out of several (sometimes many) elements. This allows them to ping up and down more quickly - thus improving signal to noise ratio and to be more robust as large single elements are more delicate.
HOW DOES SONAR WORK?
Sonar is a technique used to detect water depth and the presence/depth of objects in the water by sending a signal (ping) underwater and then receiving its echo. The echo is created when the original signal bounces off the bottom and objects in the water column between the transducer and the bottom. For fish-finding applications, sonar will show fish as an arch shape, partial arch or as a straight line, depending on the movements of the fish and the boat.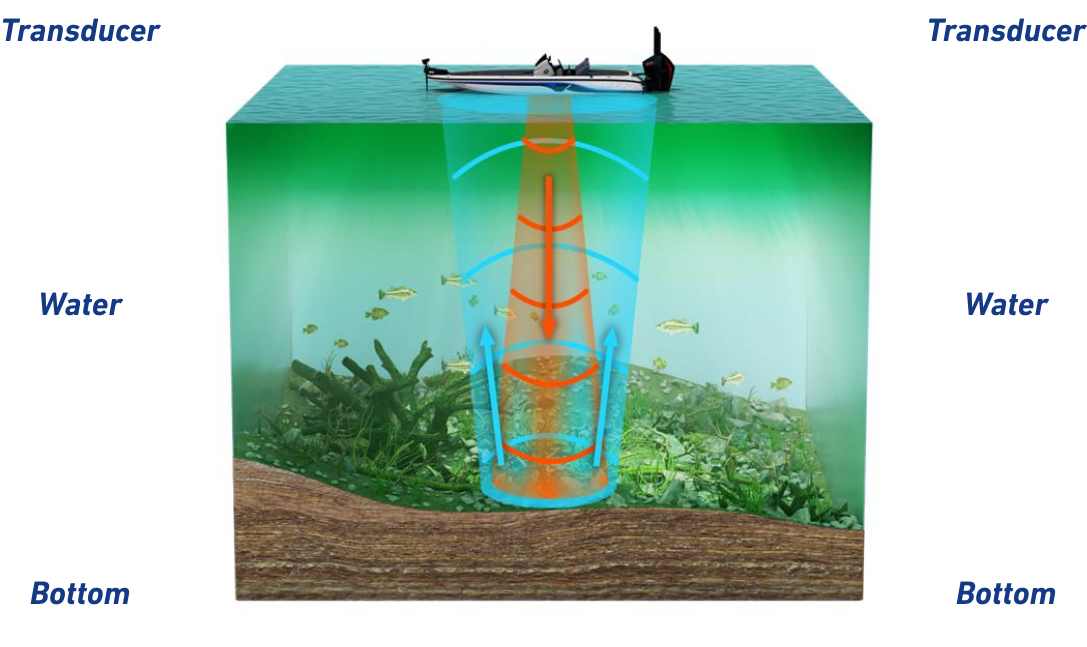 BROADBAND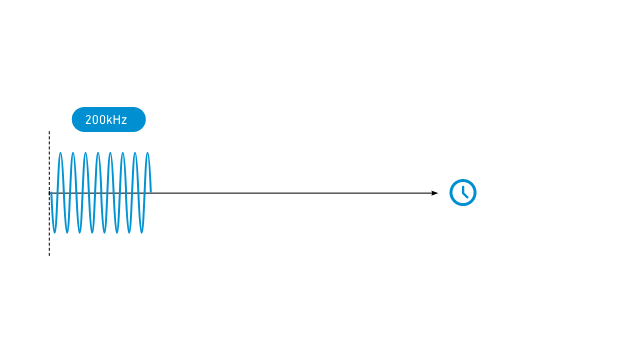 An older technology, Broadband sonar sends single-frequency sonar signals (pings) at 200kHz, 83kHz or 50kHz frequencies. High frequencies (200kHz) yield the best resolution, while low frequencies (50kHz) can reach greater depths.
CHIRP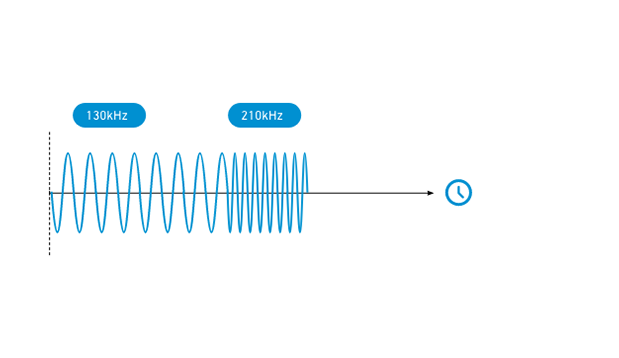 Delivers higher resolution views by continuously sweeping through a range of frequencies – typically 28-51kHz (Low), 85-155kHz (Medium) or 140-250kHz (High) – which creates a more complete picture of the bottom and objects in the water column.
BEAM ANGLE
Traditional sonar always transmits its sound waves in the shape of a cylindrical cone. The angle of the beam and the size of the cone vary depending on the frequency that is output from the transducer.The size of the cone dictates how much of the body of water you can see at any given time, the wider the angle the greater the area.
For example, most traditional 200khz transducers have a cone angle of less than 20 degrees. If you're fishing in less than 10 feet of water, the cone diameter on the bottom is less than 3 feet across which makes it less likely that a fish will come into range at that depth. So, as a rough guide, the wider the beam angle the lower the resolution.
IMPORTANCE OF FREQUENCIES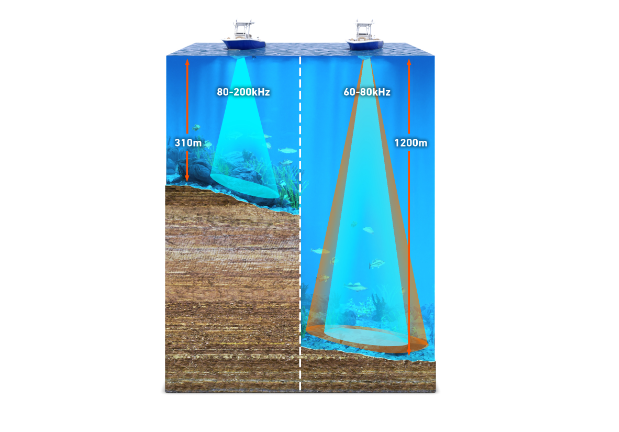 For shallow water you need medium to high frequency transducers (around 80 and 200 kHz). High frequencies produce higher resolution images but they don't penetrate very far into the water. For bottom deep water fishing, you need a low frequency transducer (around 50 kHz)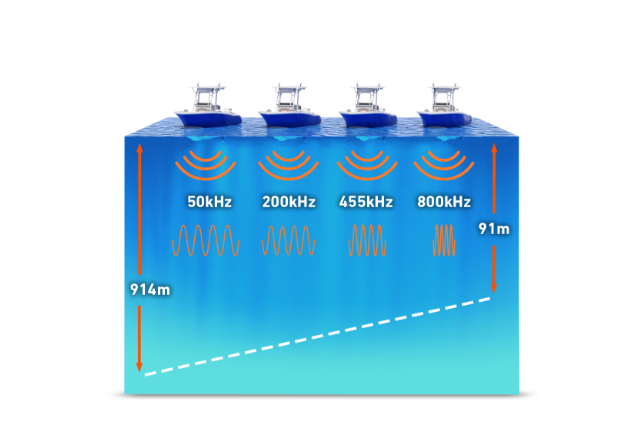 Some transducers are capable of multiple frequencies or ranges, which you can use both at the same time.
CHOOSING THE RIGHT TRANSDUCER
With so many different types of transducers available, choosing the right one can seem daunting. This diagram will help to identify the broad types of units that would be suitable as well as providing direction to the specific transducer solutions in the Lowrance range. Whether you fish ponds, lakes, coastal areas or offshore, we have the sonar technology to help you find more fish.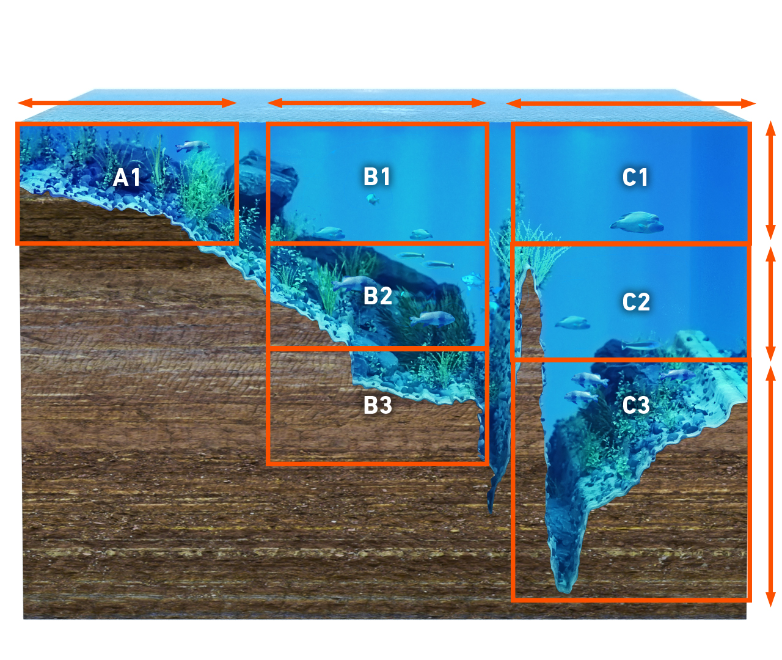 In the diagram A1, B1 and C1 would require High Chirp, a Wide Beam and 300w or 600w power. B2 and C2 is best suited to Medium Chirp. B3 and C3 are low Chirp, a narrow beam and 1kw power.
INSTALLING AND MOUNTING TRANSDUCERS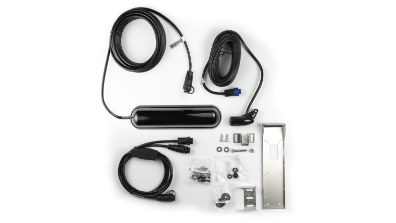 Installing & Mounting Transducers
Lowrance provides solutions for mounting transducers on every type of boat and most kayaks. Mounting locations vary depending on the type of boat.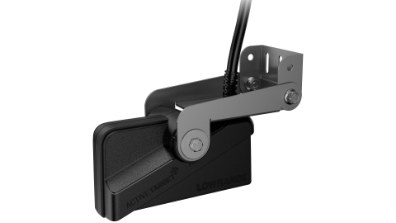 Transom Mounted Transducers
One of the most common transducer installation methods, transom-mounted transducers typically follow a Skimmer design that allows water to pass smoothly over the face of the transducer when the boat is on plane.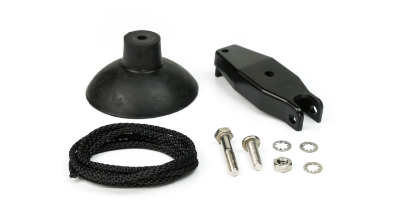 Transom Mounting Tip
When installing a transducer on the transom, attach a plastic plate to the hull first. This not only prevents you from having to drill holes directly into the transom, but also improves the water flow over the transducer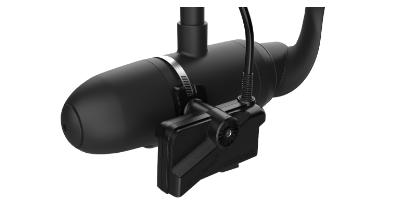 Trolling Mount
Many Lowrance transducers can be mounted to a trolling motor by a bracket specifically designed for the transducer. Others can be mounted using one of the standard trolling motor brackets.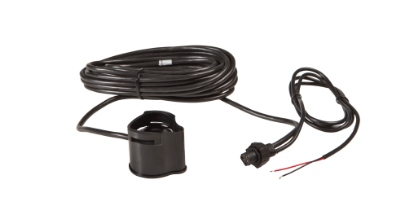 Shoot-Thru Hull Mount
In a Shoot-Thru hull installation, the transducer is epoxied to the floor of a fiberglass boat, transmitting through the bottom of the hull.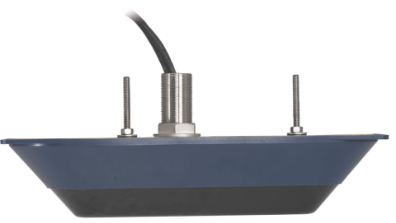 Thru-Hull Mount
When installing a Thru-Hull transducer, the thru-hull transducer is installed through a hole in the bottom of the boat.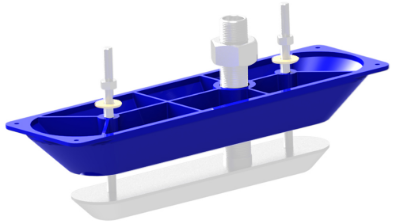 Fairing Block
Used with thru-hull installations, a fairing block is cut to match the deadrise of the hull to ensure water flows smoothly over a thru-hull transducer.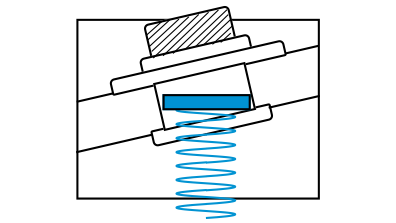 Deadrise
For vee-shaped hulls, the deadrise is the angle of the hull in relation to the horizontal plane below the keel of the boat. Given that most hulls have some form of deadrise angle it is necessary to align the transducer so that the beam is set vertically down, this allows the sonar beam to track the sea/lake/river bed efficiently to ensure that the return signal is picked up by the transducer.
BASIC CONNECTIVITY
For most Lowrance fishfinder/chartplotter installations, the transducer connects directly to the display. Some sonar technology, like ActiveTarget Live Sonar and StructureScan 3D, a module is included which connects the display to the transducer.
SONAR TIPS
Check out some of the most popular basics of sonar videos on our YouTube channel.
Lowrance CHIRP | Sonar Basics
Active Imaging Side Basics
DownScan Imaging™ Display Interpretation
Setting Up Your Ultimate Fishing System
Onwater with ActiveTarget and HDS Live
Replacing your Transducer
Identifying Fish on HDS Live
POPULAR PAGES
Check out some of the most popular Sonar and Transducer pages on our website.