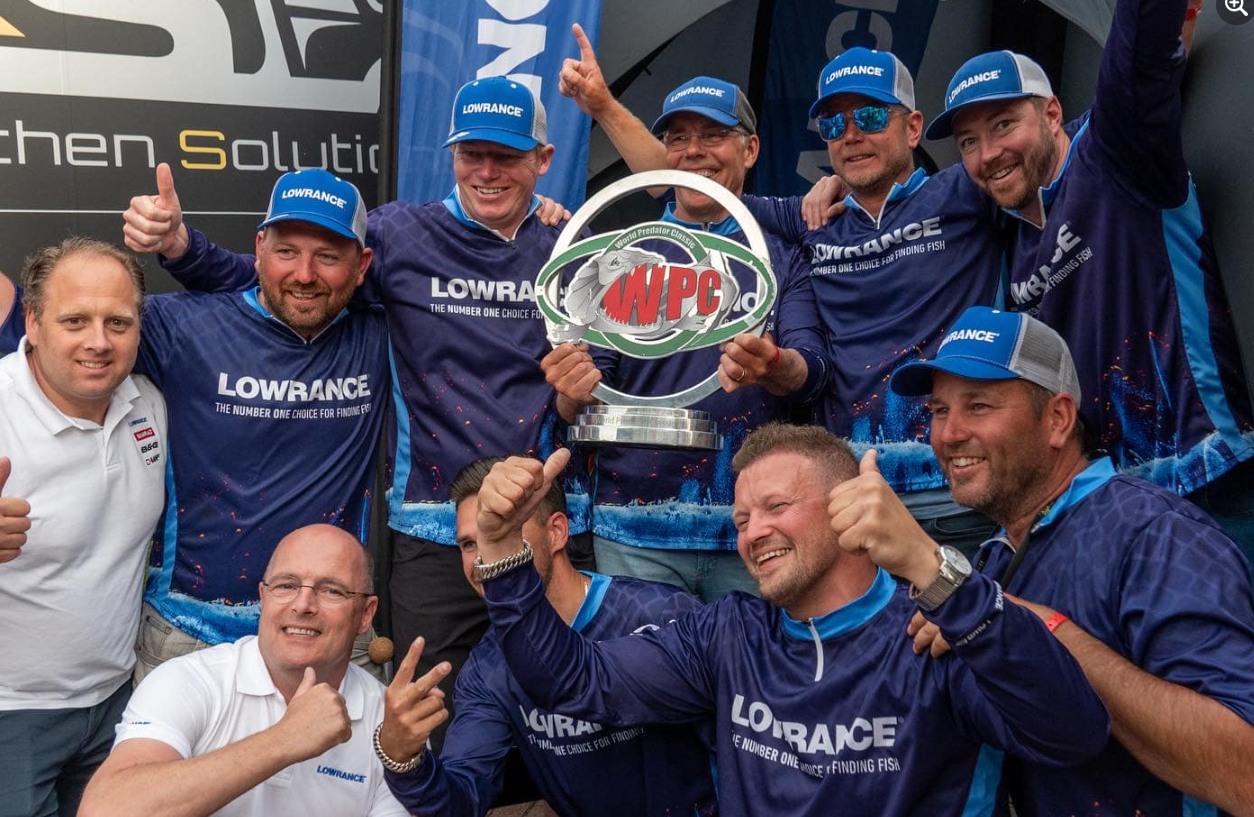 Southampton, UK. – Lowrance®, a world-leader in fishing electronics since 1957 is pleased to congratulate Team Lowrance, who this weekend won the World Predator Classic. The event, owned by Angling Spirit, is run annually and fished from boats in and around the historic town of Hellevoetsluis in Holland, with many of Europe's top anglers competing, creating a high-speed, action-packed event. This year, Lowrance ambassadors Ari Paataja and Pekka Latinen took home the top spot and claimed the incredible prize boat!
Ari Paataja
"After Lowrance launched ActiveTarget™ everything changed for me – there was no way back. Using ActiveTarget™ on a 360 degree rotatable pole is not rocket science, but still, you have to train it to recognize the right species so that you don't offer your lure to carp or bream, or so that you can tell the size of your zander, leaving those small ones aside! During the competition it became clear which teams had done their homework. In Haringvliet and Hollands Diep area there are a lot of zander and many of the WPC anglers used shallow water techniques to get all three species from the same area – this may sound like a good plan, but in reality, this blind casting technique takes a lot of time. The local fisherman had hundreds of waypoints, where they regularly caught zander from the bottom, using normal 2D or SideScan sonar, but there were not that many zanders in the shallows, especially in the clear water areas. However, if you know how to sharpshoot zander in open water with ActiveTarget™, catching a full card of zander every day was pretty easy! A top tip I would give is to choose an area with less wind and less boat traffic, then sharpshoot your suspending fish, which in many cases were at 2-5 meters, in 8-meter-deep water. Having said that, look at the map, skip deep areas, skip shallow areas, and focus on what is left. Doing this helped us catch our zanders in 1-2 hours, leaving the rest of the competition time for more difficult ones like perch and pike.
Most of the pike in the area were near weed beds, which meant fishing amongst heavy vegetation. With ActiveTarget™ forward mode this is very difficult, so we used scout mode. There were very few pike suspended in deeper water and we didn't find them, had there been any then catching these would have been done in the same way as with the zander. Using SideScan helped us a lot, it allowed us to see the edges of the weed beds, helping us to focus our casts on these potential areas!
Perch, perch, perch, three times the trouble for many. Our Lowrance electronics helped us to find the underwater humps which perch enjoy, the smaller fish go in schools, but the 40+ fish you find in pairs or just single fish are perch. For me the traditional 2D technology is still a brilliant tool to see the fish under a boat, but if the fish are in shallow edges ActiveTarget™ can really help you recognize the species."
Ari Paataja is one of the most successful skippers in WPC history, his first event was in 2016 where his boat came 3rd, he has competed in many of the WPC tournaments since and in 2022 hit the jackpot with fishing partner Pekka Laitinen, with the Finnish team coming first place. Ari is a true Lowrance fan and passionate ambassador, having visited the Lowrance factory in Tulsa, USA in 1986. He has seen the X, LGS, HDS and Live generations. His first sounder was an Eagle 7000, a Lowrance product from the early 90's. Ari now uses Lowrance's Ultimate Fishing system on his boat with 2 x ActiveTarget™ live sonars, 2 x HDS LIVE 12" and 1 x Elite FS 9" fish finders and will soon be installing a Ghost trolling motor too.
For more information about the World Predator Classic visit – Home - World Predator Classic
For more information on Lowrance visit - Lowrance Marine & Fishing Electronics | Lowrance UK
---
Contact
Dulcie Allen
PR Manager, EMEA
dulcie.allen@navico.com
---
About Lowrance
Lowrance® is part of Navico, a division of Brunswick Corporation's (NYSE: BC) Advanced Systems Group, and has been a leader in marine electronics and sonar technology since first inventing the original consumer fishfinder in 1957. It features a brand portfolio that is dedicated to helping anglers find and catch more fish, and includes the industry-leading HDS Live™, Elite FS™, Hook Reveal™ Chartplotters & Fishfinders, ActiveTarget™ and Active Imaging™ Sonars and Lowrance Ghost™ Trolling Motors. Lowrance is distributed in more than 100 countries worldwide. More information is available at lowrance.com.