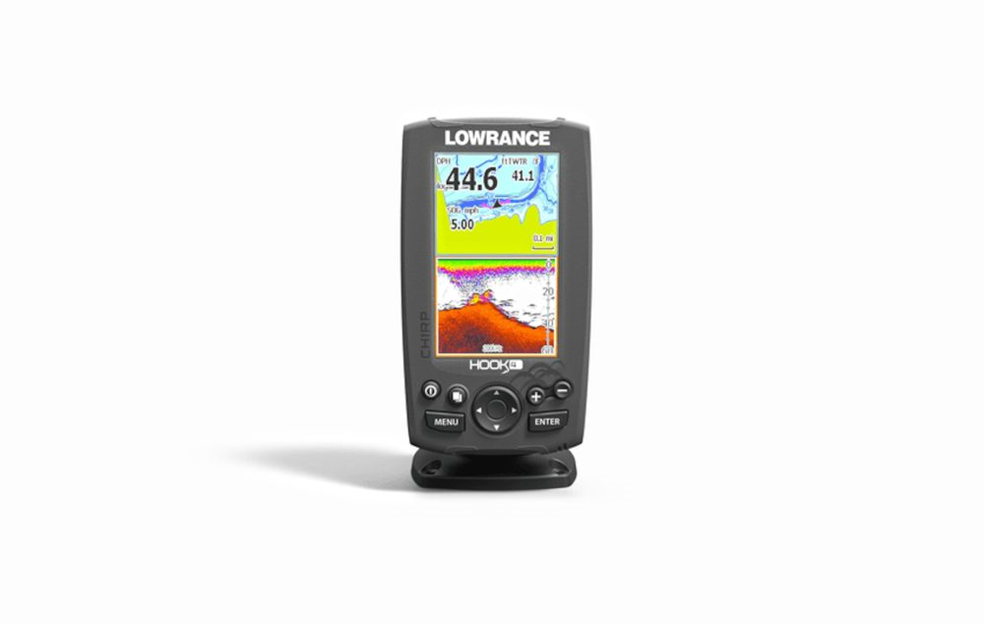 "https://www.lowrance.com/assets/img/default-product-img.png?w=400&h=225&scale=both&mode=max"
HOOK-4x Ice Machine with Ice Transducer
SKU: 000-12643-001
000-12643-001
The HOOK-4 Ice Machine comes with a portable ice-fishing pack and transducer, features trusted Lowrance sonar and an easy-to-use interface. Powered by CHIRP sonar technology, the Ice Machine gives you a complete view of the underwater environment beneath the ice. Featuring a brilliant 4-inch color display, the HOOK-4x Ice Machine has high performance sonar with enhanced sonar sensitivity, excellent target separation and superior noise rejection, making it easier to see baitfish and gamefish targets.
Product details
The Lowrance HOOK-4x Ice Machine fish finder offers proven features and performance at a superior value, giving anglers the tools they need to pinpoint targets and structure beneath the ice. Featuring a high-resolution, 4-inch color display, the HOOK-4 Ice Machine is easy to use and comes with a portable ice-fishing pack, battery and transducer. The Ice Machine has built-in CHIRP Sonar for the best possible views beneath the ice and includes Advanced Signal Processing (ASPTM), an exclusive Lowrance technology that reduces the need to manually adjust settings to see fish, structure and bottom details. The HOOK-4's TrackBackTM feature allows anglers to review recorded sonar history to pinpoint structure, drop offs and fish targets.
Key Features
CHIRP sonar technology: Combine the power of two CHIRP ranges for the ultimate in target separation and noise rejection
Hybrid Dual Imaging™ (HDI): The power of two award-winning technologies -- Broadband Sounder™ PLUS Exclusive DownScan Imaging™ -- combined to provide the best possible view of the water column and everything in it.
DownScan Overlay™: Exclusive technology overlays DownScan Imaging™ onto Broadband Sounder display for one stunning view that separates and clearly exposes fish targets from surrounding structure. Overlay transparency and color palettes are fully adjustable.
TrackBack™: Easily scroll back in sonar history to review covered areas and pinpoint spots (saves time and fuel trying to re-trace your path). With chartplotter models, simply mark a waypoint at your cursor location with the press of a button.
Advanced Signal Processing™: Reduces manual adjustments to automatically see fish, structure and bottom detail more clearly.
HOOK-4 Color Display: Lowrance-exclusive, high-resolution, 4.3-inch, color display provides brilliant visibility and viewing detail in all conditions.
All-New Page Selector: An easier-to-use menu system with quick access to all features using one-thumb operation.
Multi-Window Displays: Choose from as many as eight preset page layouts, including up to three panels in split-screen mode to view chart, Broadband Sounder™ and DownScan Imaging™ -- all on one screen simultaneously. Multi-Window view can be accessed while viewing live sonar and charting.
Supported by Lowrance Advantage Service program and limited one-year warranty.
Advanced Signal Processing
Specifications
Display

Backlight Color

Pure White LED

Display Resolution

480 x 272

Screen Brightness

1500 nits

Viewing Angles

80° top/bottom, 85° left/right

Connectivity

NMEA 2000 Connectivity

N/A

Electrical

Power Consumption max

1.0A

Power Consumption typical

.075A

Recommended Fuse Rating

3A

Supply Voltage

12v (10-17vDC)

Environment

Operating Temperature Range

5°F to 131°F (-15°C to 55°C )

Storage Temperature Range

5°F to 131°F (-15°C to 55°C )

Physical

Dimensions W x H x D

6.6" (168mm) x 3.8" (96mm) x 2.2" (56mm)

Mounting Type

Gimbal Bracket or Dash Flush Mount

Weight

0.85 lbs (0.38 kg)

Radar

Other

Interface

Keypad:8-way directional keypad Zoom +/- EnterMenuPagesLight/Power

Languages

Standard Language Pack: English, UK English, French, German, Italian, Spanish, Danish, Finnish, Greek, Norwegian, Portuguese, Sweedish, Afrikaans, Bulgarian, Estonian, Croatian, Hungarian, Lithuanian, Latvian, Polish, Slovakian, Turkish, Czech, Romanian, Japanese, Korean, Thai, Chinese-Simple, Chinese-Traditional, Vietnamese, Arabic, Farsi