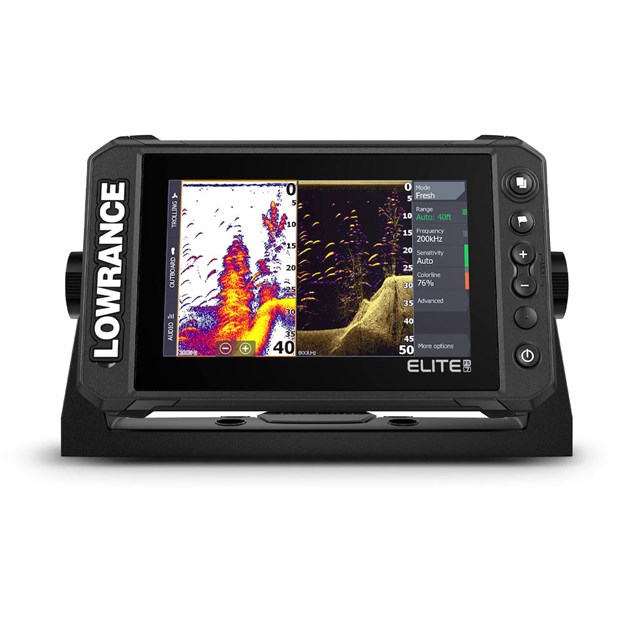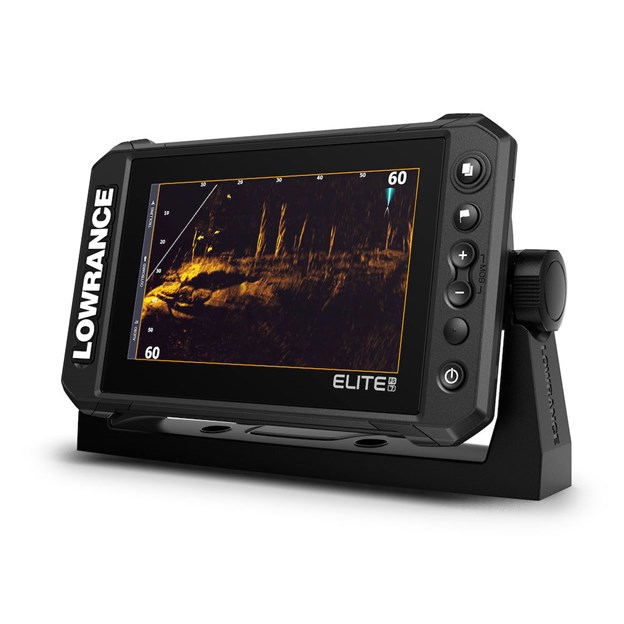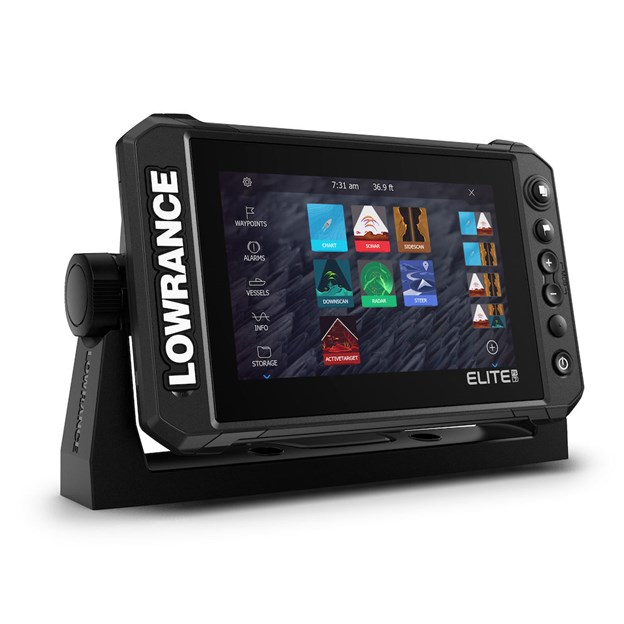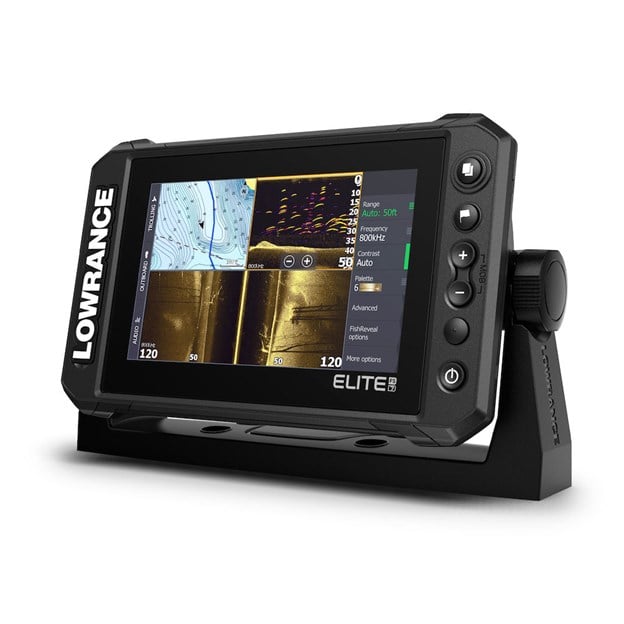 "https://www.lowrance.com/assets/img/default-product-img.png?w=400&h=225&scale=both&mode=max"
Elite FS™ 7 met Active Imaging 3-in-1
SKU: 000-15689-001
000-15689-001
Het nieuwe Elite Fishing System (FS) geeft u toegang tot het volledige aanbod van Lowrance fishfinding tools – waaronder ActiveTarget™ live sonar, Active Imaging™ en compatibiliteit met een breed aanbod aan kaartopties – om het meeste te halen uit uw tijd op het water.
Het Elite Fishing System™ (FS) combineert de kracht van Lowrance's beproefde en nieuwste fishfinding tools met een voordeliger display dat gebruiksvriendelijk en eenvoudig te installeren is. Elite FS biedt u alle hulpmiddelen die u nodig hebt om meer vis te vinden en te vangen, van ActiveTarget™ live sonar en extreme high-resolution Active Imaging™ met Lowrance CHIRP sonar, SideScan en DownScan Imaging™ tot compatibiliteit met een groot aantal kaartopties.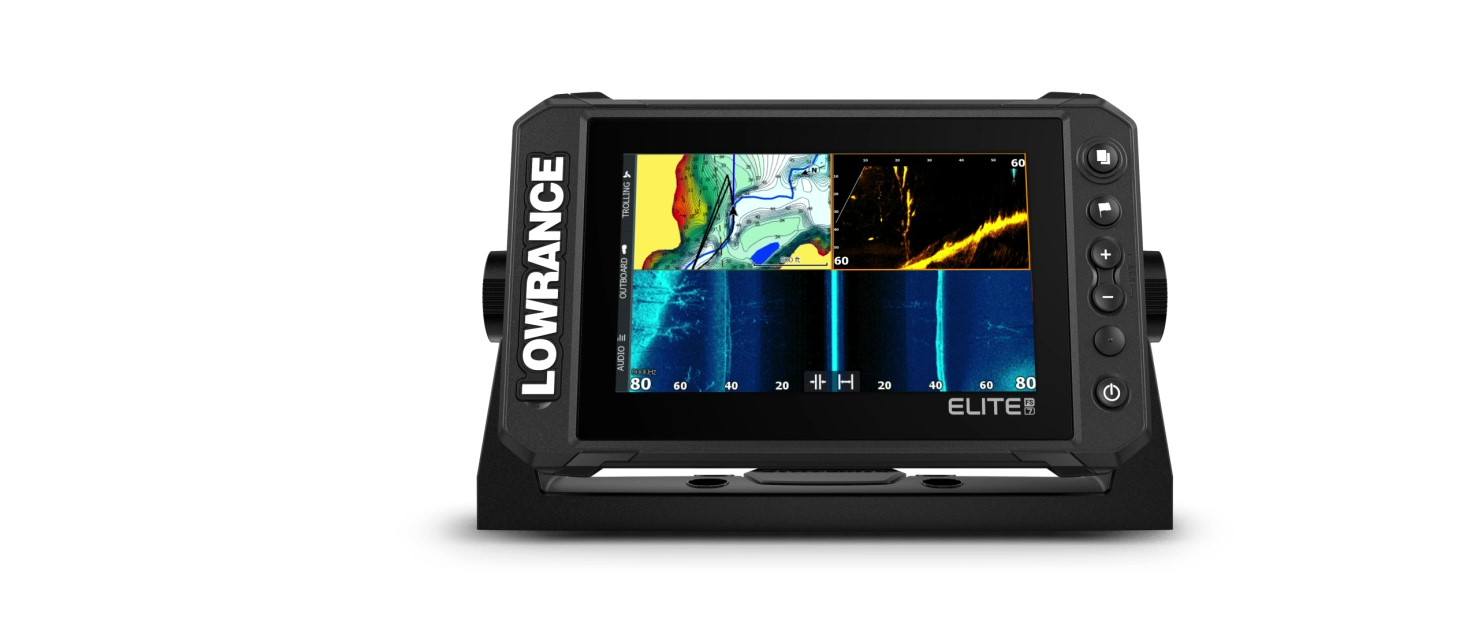 Vind meer vis met de beproefde Lowrance sonar
Bekijk structuren en schuilplaatsen met een nieuw niveau van verfijnde details en een bereik dat door geen enkele andere structuurbeeldvormingstechnologie wordt geëvenaard via Active Imaging™ 3-in-1 sonar met CHIRP, SideScan en DownScan met FishReveal™. Krijg het beste van CHIRP sonar en DownScan Imaging™ op één scherm met de exclusieve FishReveal die u helpt om vis van structuren en dekking te onderscheiden op zeer gedetailleerde DownScan beelden.

Volg vissen live met de nieuwe ActiveTarget™ Live Sonar
Vis slimmer doordat u precies weet wat de vissen in real time doen – met ActiveTarget™ Live Sonar. Bekijk high-resolution beelden van visbewegingen, volg ze terwijl ze in en rond obstakels zwemmen. Bekijk hun real-time reacties op uw kunstaas zodat u weet of uw huidige techniek werkt of dat het tijd is om iets anders te proberen.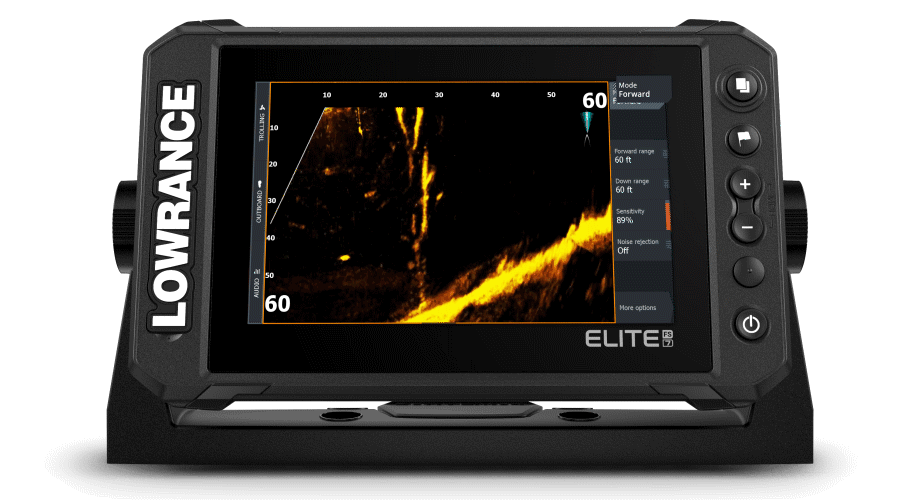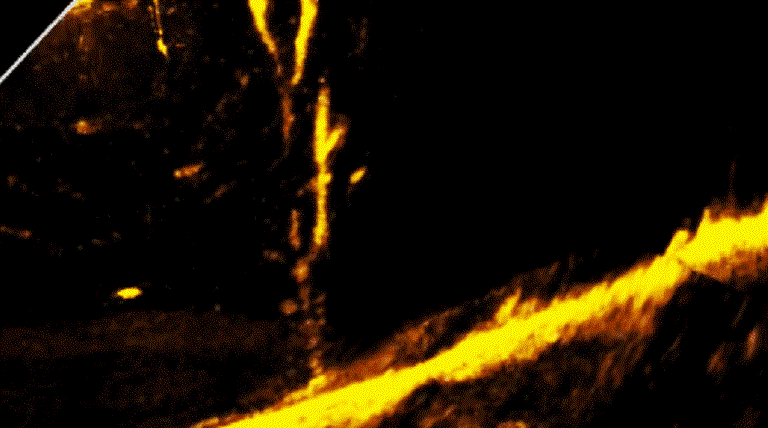 Talloze kaartopties
Elite FS-schermen vooraf geladen met een wereldwijde basiskaart en zijn compatibel met een breed aanbod aan kaartopties, waaronder C-MAP®, Navionics® en meer.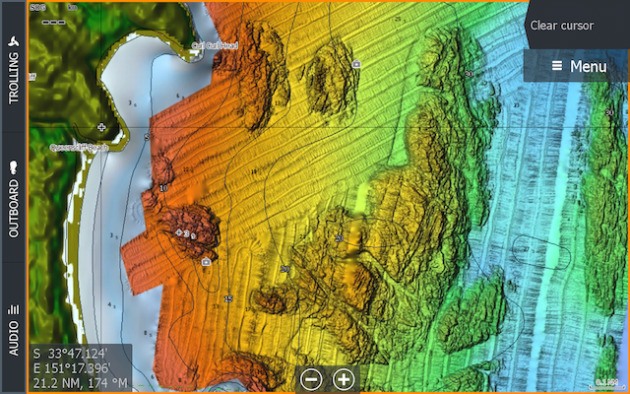 Belangrijkste kenmerken
Gereed voor ActiveTarget™ Live Sonar
Gereed voor Active Imaging 3-in-1
FishReveal™
Bevat wereldwijde basiskaart, plus een breed scala aan kaartopties, waaronder C-MAP, Navionics® en meer
C-Map® Easy Routing, Navionics® Autorouting functionaliteit
C-MAP Genesis Live Onscreen Mapping
Multi-touchscreen met hoge resolutie
Geïntegreerde draadloze, NMEA 2000® en Ethernetconnectiviteit
Volledige touchscreenbediening van Power-Pole® ankers en Ghost® trollingmotor
Specificaties
Schermhelderheid

>1200 nits

Gegevensopslag SD-kaart

1 micro SD card up to 32GB

Ethernetpoorten

1 x 100Mbit

Gewicht

1.90 lbs (0.90 kg)

Updatesnelheid

10 Hz

GPS

10 Hz Internal high-sensitivity WAAS + EGNOS + MSAS

Schokabsorptie

100,000 cycles of 20 G

Kompasbescherming

12" (300mm)

Voedingsspanning

12v DC (10.8-17VDC)

GPS-ontvangstkanalen

16

Aan te sluiten op NMEA 2000

1x Micro-C

Garantieperiode

2 Year + 3 additional years of upgrade options totaling 5 years

Max. stroomverbruik

2.0A @ 13VDC with backlight on full

Normaal stroomverbruik

2.0A @ 13VDC with backlight on full

Min. stroomverbruik

2.0A @ 13VDC with backlight on full

Positienauwkeurigheid

20m RMS

Waypoints, routes, tracks

3000 Waypoints100 Routes100 Trails with up to 10,000 points per trail

Tijd tot eerste positiebepaling

30s

Aanbevolen stroomsterkte zekering

3A

Opslagtemperatuurbereik

4°F to 140°F (-20°C to 60°C )

Geschikt voor radar

4G (Broadband)3G (Broadband)Halo20 (Pulse Compression Dome Radar)Halo20+ (Pulse Compression Dome Radar)Halo24 (Pulse Compression Dome Radar)

Bedrijfstemperatuurbereik

5°F to 131°F (-15°C to 55°C )

Kijkhoeken

50° top60°bottom70° left/right

Vochtigheid

60°C, 95% relative humidity (RH) for 18 hours

Displayresolutie

800x480

AIS

AIS Chart overlay. Target vessel details.

Ondersteunde kaarten

C-MAP (MAX N, MAX N+)C-MAP GenesisC-MAP Precision Contour HD (AMER ONLY)Navionics (Gold, NAV+ Platinum+)Insight (Pro and HD)Lowrance Regional Mapping Partners

Inclusief cartografie

C-MAP ROW Basemap (ROW models)Navionics basemap (AMER, AUS/NZ and ROW models)

Correctie

DGPSWAASMSASEGNOSGLONASS

Type montage

Gimbal Bracket or Dash Flush Mount

Bluetooth

Integrated Bluetooth 4.0 with support for Bluetooth Classic

Geschikt voor sonar

Integrated: CHIRPBroadbandActive Imaging DownScanActive Imaging SideScanCompatible with:SonarHubStructureScanStructurreScan 3DLiveSightActive Target

item beschikt over Wi Fi verbinding

Internal 802.11b/g/n

Waterbestendigheid

IPX7 with card door closed

Interface

Multi-Touch TouchscreenZoom +/-MOB = (+/- combined)PagesWaypointLight/Power

Interne opslag

None

Aan te sluiten op pc

None

Ondersteuning voor NMEA 0183-sentences

None

Video

None

Digital switching

None

Stuurautomaat

Outboard PilotGhost Trolling MotorMotorGuide Xi5/Xi3 Trolling Motor **requires Motorguide PinPoint Gateway

Kleur achtergrondverlichting

Pure White LED

N2K-PGN's

Receive only65240 ISO Commanded Address, 127245 Rudder, 127251 Rate of Turn, 127257 Attitude, 127488 Engine Parameters, Rapid Update, 127489 Engine Parameters, Dynamic, 127493 Transmission Parameters, Dynamic, 127505 Fluid Level, 127508 Battery Status, 129033 Time and Date, 129038 AIS Class A Position Report, 129039 AIS Class B Position Report, 129040 AIS Class B Extended Position Report, 129794 AIS Class A Static and Voyage Related Data, 129801 AIS Address Safety Related Message, 129802 AIS Safety Related Broadcast Message, 129808 DSC Call Information, 130313 Humidity, 130314 Actual Pressure, 130576 Small Craft Status, 65285 Temperature with Instance, 65325 Reprogramming Status, 65480 Parameter Reply, 130817 Product Information, 130820 Reprogramming Status, 130832 Fuel Used – High Resolution, 130834 Engine and Tank Configuration, 130838 Fluid Level Warning, 130842 AIS and VHF Message Transport, 130843 Sonar Status – Frequency and DSP VoltageTransmit and Receive:59392 ISO Acknowledgement, 59904 ISO Request, 60160 ISO Transport Protocol, Data Transfer, 60416 ISO Transport Protocol, Connection Management, 60928 ISO Address Claim, 126208 NMEA Group Function, 126464 Receive/Transmit PGN's group function, 126992 System Time, 126996 Product Information, 127237 Heading/Track Control, 127250 Vessel Heading, 127258 Magnetic Variation, 128259 Speed, 128267 Water Depth, 128275 Distance Log, 129025 Position, Rapid Update, 120296 COG and SOG, Rapid Update, 129029 GNSS Position Data, 129283 Cross Track Error, 129284 Navigation Data, 129539 GNSS DOPs, 129540 GNSS Sats In View, 130074 Route and WP Service – WP List - WP Name and Position, 130310 Environmental Parameters, 130311 Environmental Parameters, 130312 Temperature, 130577 Direction Data, 61184 Parameter Command, 65292 Clear Fluid Level Warnings, 65293 LGC-2000 Configuration, 65323 Data User Group Request, 130831 EP-20 Suzuki Engine and EP-50 Storage Device Configuration, 130835 Set Engine and Tank Configuration, 130839 EP-45 Pressure Configuration, 130840 Data User Group Configuration, 130845 Parameter Handle, 130850 Event Command, 130851 Event ReplyTransmit only65287 Temperature Sensor Configuration, 65289 Trim Tab Configuration, 65290 Paddle Wheel Speed Configuration, 130818 Reprogramming Data, 130819 Request Reprogram, 130828 Set Serial Number, 130836 Fluid Level Configuration, 130837 Fuel Flow Turbine Configuration

Weer

SiriusXM via WM-4 (USA only)

Multimedia

SonicHubSonicHub2FusionLink productsany NMEA 2000 compliant Marine Aduio products

Talen

Standard Language Pack: Afrikaans/Afrikaans, Danish/Dansk, German/Deutsch, English (US), English (UK), Spanish/Español, Finnish/Suomi, French/Français, Greek/Ελληνικά, Icelandic/íslenska, Italian/Italiano, Dutch/Nederlands, Norwegian/Norsk, Portugese (Brazil)/Português (BR), Portugese (Portugal)/Português (PT), Swedish/SvenskaAsian Language Pack: English (US), English (UK), Japanese/日本語, Korean/한국어, Thai/ภาษาไทย, Chinese - (simplified) China/简体中文, Chinese - (traditional) Taiwan/繁體中文Eastern European Language Pack:Bulgarian/Български, German/Deutsch, Estonian/Eesti, English (US), English (UK), Spanish/Español, French/Français, Hebrew/ عبری , Croatian/ Hrvatski, Hungarian/ Magyar, Italian/Italiano, Lithuanian/Lietuvos, Latvian/ Latvijas, Polish/Polski, Slovak/ Slovensky, Turkish/TürkçeRussia/Ukraine Language pack: German/Deutsch, English (US), English (UK), Spanish/Español, Italian/Italiano, Russian/Русский, Ukraine/ УкраїнськаMiddle Eastern Language Pack: Arabic (UAE)/ العربية , German/Deutsch, English (US), English (UK), Farsi/ فارسی , French/Français, Italian/Italiano