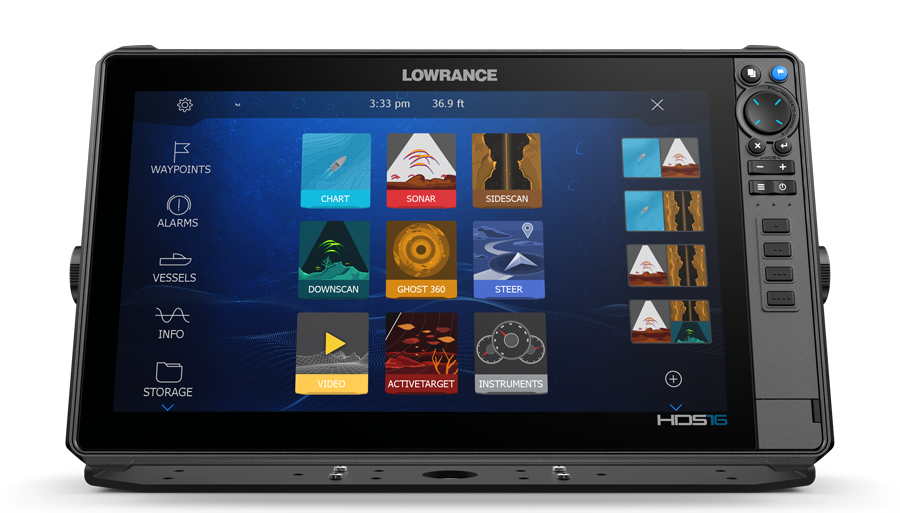 Save up to $800
Purchase an HDS LIVE or all-new HDS PRO and get up to $800 maximum savings on qualifying fishing system components including ActiveTarget Live sonar ($200), Ghost Trolling Motor ($500), MotorGuide Xi5 ($200) or Tour Pro ($200) Trolling Motors, HALO Radar ($400) and NAC-2 or NAC-3 autopilots ($300).
HDS PRO
With built-in support for the new, ultra high-definition Active Imaging™ HD and ActiveTarget® 2 you'll see more clearly and find more fish than ever before.
HDS LIVE
Premium performance and support for the best collection of innovative sonar and navigation features available.
Ultimate fishing system components
Seamlessly combine core fishing products on your boat to create one Ultimate Fishing System.
How to claim
Purchase qualifying products between January 2, 2023 and May 31, 2023 in the USA, Canada, or Puerto Rico.
Begin your claim online at Lowrance.4myrebate.com.
Enter applicable offer code

U.S. residents: LOW-10052
Canada residents: LOW-10053

Follow the guided offer portal and complete your claim by June 25, 2023.
Please review the offer terms and conditions.
Required for submission:
Valid buyer contact info (phone number, address, email)

Qualifying model Serial Number (located on UPC label)

Image/scan of the original, dated, itemized proof of purchase or order confirmation

Scanned image of Bar Code and Serial number from product box

If qualifying model(s) acquired with new boat purchase, include copy of bill of sale, itemizing qualified product(s) installed
Terms and conditions
This special offer is available to qualifying end-user purchasers of a qualifying product. If any terms and conditions are not met the special offer will be denied. If any terms and conditions are not met the special offer will be denied. Distributors and dealers may not participate in this offer. The purchase date on your sales receipt, packing slip or invoice must be a date within the eligibility period indicated on the individual special offer application when registering online at Lowrance.4myrebate.com. The address on your special offer application must match the billing address on the receipt, packing slip or invoice. Limit (3) three redemptions per qualifying special offer, per person, billing address, company, household and receipt/invoice/packing slip during the eligibility period, except where prohibited by law. Any request postmarked or received after the eligibility period will be denied.
You shall receive a MasterCard® Prepaid Card (the "Reward Card"). This Card is issued by Sunrise Banks N.A., Member FDIC, pursuant to a license from Mastercard International Incorporated. Mastercard is a registered trademark, and the circles design is a trademark of Mastercard International Incorporated. This card may be used everywhere Debit Mastercard is accepted. Registration, activation, acceptance, or use of this card constitutes acceptance of the terms and conditions stated in the Prepaid Card Agreement. Card valid for up to (6) six months; unused funds will be forfeited at midnight EST the last day of the month of the valid thru date. Once expired, this card is void and will not be replaced. If you do not spend all the funds on the card prior to the expiration date, the remaining funds will not be available to you. You have no right to the funds except to use them for authorized transactions prior to the expiration date shown on the card. Subject to applicable law, and except as otherwise provided in the Cardholder Agreement, this Card is not redeemable for cash or recurring payments. Read Cardholder Agreement for complete terms and conditions, including a binding individual arbitration clause. The Card is issued for loyalty, award, or promotional purposes and is not a gift card; nor is it intended for gifting purposes. No money has been paid by you for the card. Card terms and conditions apply, see login.wirecard.com.
® Mastercard is a registered trademark of Mastercard International Incorporated.
Your personal information will be processed by Navico, acting as a Data Controller, in accordance with the Privacy Policy for the purpose of offering or providing you with our products and/or services and the management of your customer relationship with Navico (the "Purposes") and may be shared with its affiliates, business partners or service providers and with any third parties located within or outside the EU for the Purposes. Your personal information will be retained for the whole duration of the Purposes, augmented by the duration of any statute of limitations which may apply. You may request to access, correct, or delete your personal information at any time by contacting us at legal@navico.com or by postal mail at: Navico, Inc., ATTN: Legal Dept., 4500 S. 129th East Ave., Suite 200, Tulsa, OK 74134-5885, USA. You may also manage your communication preference by accessing the Privacy section of your profile on the Navico website.
Please allow 8-10 weeks for delivery in US and 10-12 weeks for delivery in Canada. Offer subject to change at any time. Void where prohibited by law. Use of fictitious names, multiple addresses and P.O. Boxes to obtain additional special offers may constitute fraud, violate federal, state or provincial laws and may result in prosecution, imprisonment and/or fines, including under the U.S. Mail Fraud Statutes (18 USC, Section 1341 and 1342). You may check the status of your special offer by visiting the link provided in your e-mail or visiting Lowrance.4myrebate.com. Please allow 3 weeks after submitting to make any inquiries regarding your special offer. Fulfillment of this special offer is subject to final approval by Navico and can be amended at its sole discretion. Reward Vendor is not liable for non-fulfillment of offers by Navico.
® 2023 Navico