Are you ready to fish from a kayak? One of the most exciting and empowering ways to fish, kayak fishing lets you to go places completely inaccessible by foot or too shallow for a motor boat to reach. Do you like to explore? Kayaking lets you paddle right into those elusive nooks and crannies where fish are most likely to feed. Are you ready for an unmatched experience? Kayak fishing provides the ultimate challenge, putting you right into the fish's world, sitting inches from the surface of the water.
So what are you waiting for? It's time to dive right in! Whether you're new to the concept or an advanced kayak angler, here are a few tips to help you get the most out of your time on the water.
Start by selecting the right kayak
Before you add seats, skirts, mounts, cleats, bungees, hatches and all the other extras that make your boat unique, you have the hull. A kayak's hull is its bare-bones form. When you really look at them, they sometimes look similar, but kayak hull designs can vary drastically. Here are some of the options when it comes to the hull.
Paddle vs. Pedal
While traditionalists swear by the mode of propulsion that has been in use for thousands of years, – the paddle – many people find pedal-powered kayaks to be less fatiguing when traveling longer distances, and you can still use a paddle if you want to or need to. You'll want to carry a spare paddle in case something goes wrong with the pedal drive system, but then it's always wise to carry a spare paddle anyway. Note that you will have to pay extra for a pedal-powered kayak, as they can be considerably more expensive.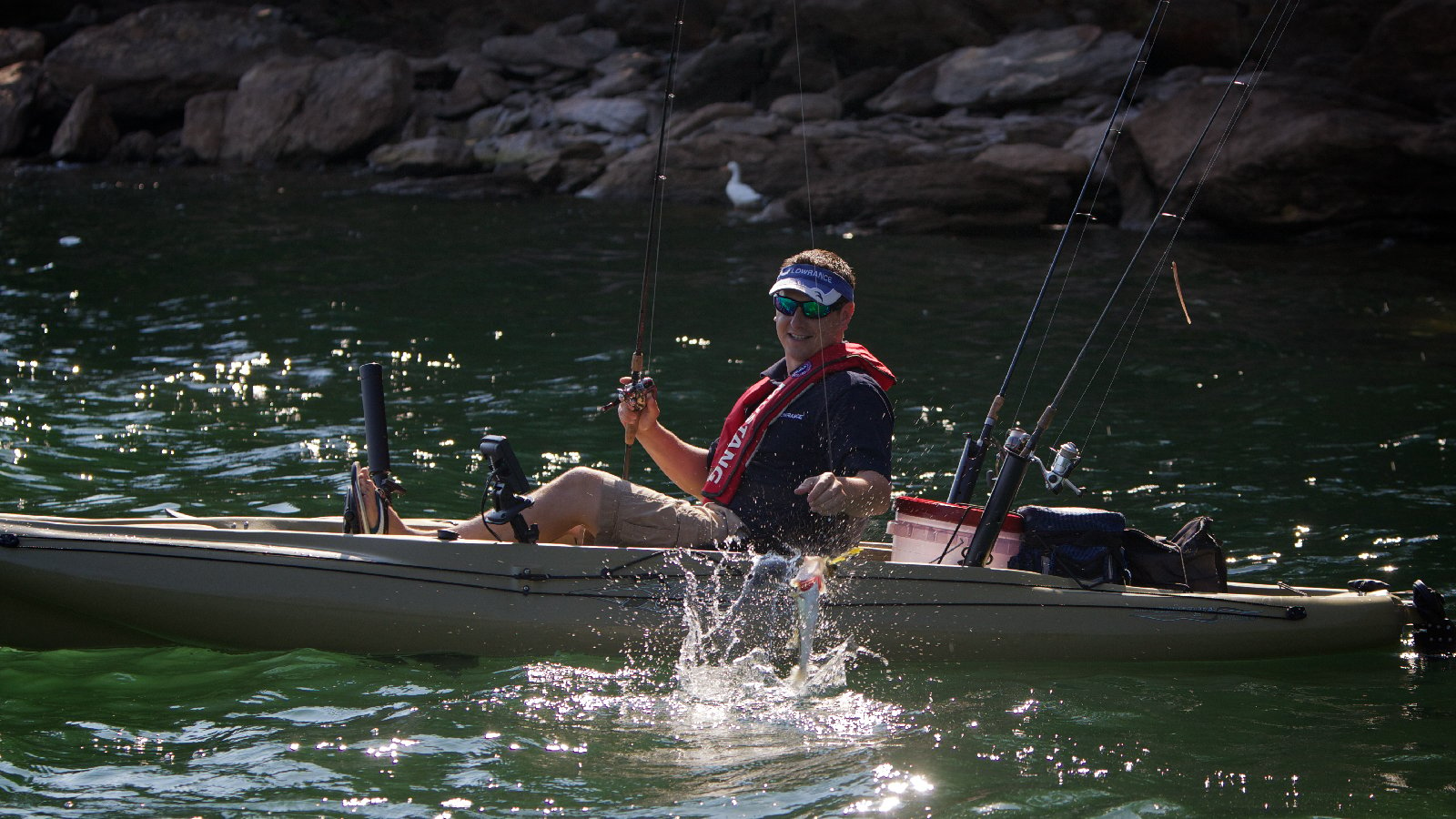 Sit on top vs. sit-in
Most kayak anglers prefer sit on top kayaks. Sit on top kayaks generally allow for unrestricted access to gear and also make it easier to get out and wade if you want. One downside of sit on top kayaks is that they can make for a wet ride, which can be uncomfortable or even dangerous if the water is really cold. The sit-in kayaks that would be most appropriate for fishing have very large cockpits to facilitate easy gear access and exit/entry while on the water. Even with a large cockpit, it will be harder to get out of a sit-in kayak if you decide to wade.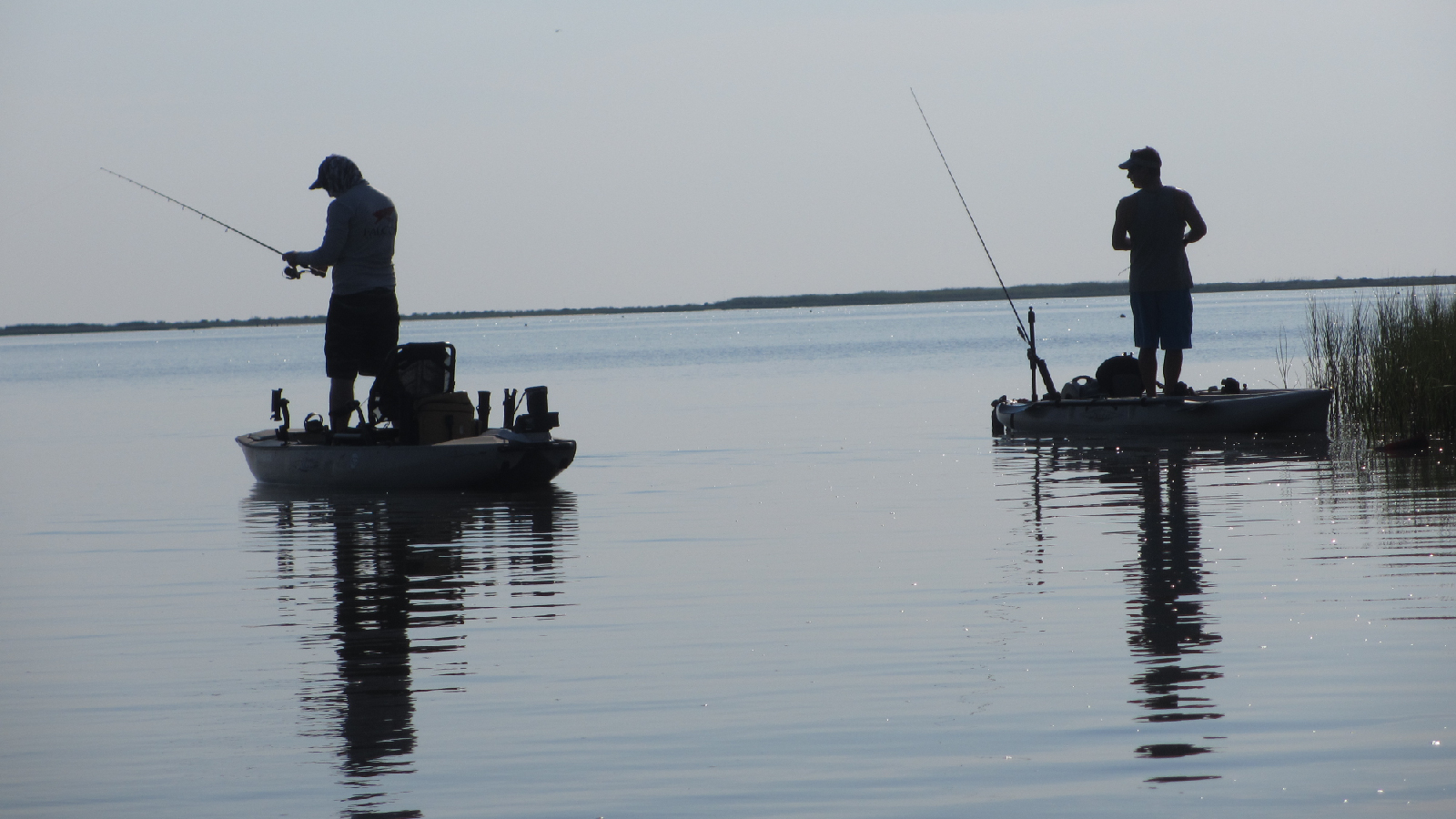 Fishing location and conditions
To start, you need to ask yourself where you will be kayaking. Will you be fishing in slow moving rivers, ponds, lakes or the ocean? Warm water or cold water? Will you be launching and landing through surf? Choose a kayak whose features are what you need for 90% of your trips, not the exceptions. Choosing any kind of kayak involves trade-offs. Sit-in kayaks can be a more comfortable choice for particularly cold water. Kayaks that have more "rocker" (upswept bow and stern) will tend to do better in waves and current but won't track as well (i.e., won't go as straight) on flat water. All else being equal, longer kayaks are generally faster than shorter ones and wider kayaks are generally more stable (and slower) than narrower ones. While it's definitely nice to have a stable kayak for fishing, keep in mind that almost any kayak will feel more stable the more you use it. So, unless you're a particularly large individual, it's probably best to avoid buying the widest kayak you can find in the pursuit of rock-solid stability, because you will quite possibly end up with a kayak that is slower than you would like and wider than you need.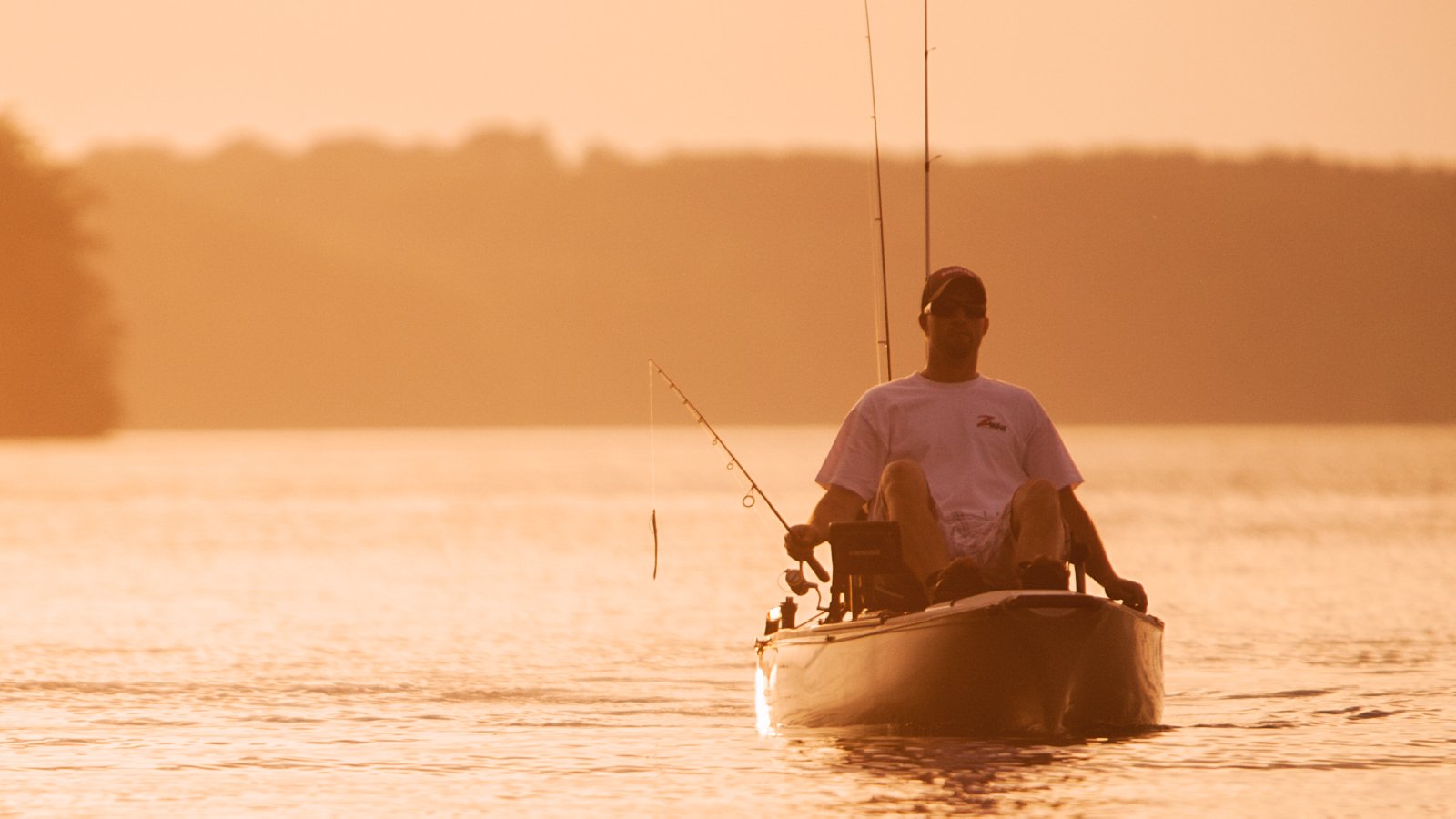 Rigging
Cutting out all the gimmicks and flashy extras, the only thing that really separates a fishing kayak from any other kayak is a rod holder and a few other pieces of rigging. Many of the fishing kayaks on the market today are available in "angler" versions (with rigging designed so that accessories are convenient for most paddlers) or stock versions (add your own rigging). Stock kayaks are cheaper than rigged "angler" models so, if you're relatively handy, not only can you save some money by doing your own rigging but you can customize your kayak to fit your own personal needs and wants. It is generally better to start with less gear and add the things you need over time, rather than to get everything you might need or want from day one. You can certainly get started with just a couple of simple rod holders, a paddle leash, a personal flotation device (PFD), safety whistle, milk crate, and a dry bag. Everything else can be added later.
Cost
Ideally, cost should take a back seat to the size, shape and style of kayak, but, if the fishing kayak you want isn't in your budget right now, just buy what you can afford. You can always upgrade later. The most important thing is to get out on the water and catch some fish!
Gear up with the right accessories
So, you've selected your kayak, that's half the battle. Now comes the fun part: choosing how to outfit your new toy and prepare for a day out on the water. Below is a list of necessary items to take into consideration before you pick up your paddle.
Gear up for safety
Don't panic! The chances of things going wrong on your fishing trip are minimal, but every boater knows it's always best to be prepared for anything so safety and comfort should be a focus of your pack list. With that in mind, a PFD is essential. Other items every boater should have include a whistle, flares, gloves, a headlamp (even if you do not plan to be out at night), first aid kit, paddle leash, fishing rod leash and an emergency kayak repair kit. All these items can be packed in a waterproof case or bag so that nothing is forgotten, and they can be grabbed easily every time you go kayaking.
Protect that skin
Being out on a kayak leaves you exposed to the elements. While the wind in your hair and the smell of the ocean is part of the draw of kayaking, you don't want to overdo it. Skin protection will keep you comfortable on your trip and healthy long-term. Be sure to pack bug spray, waterproof sunscreen, sun-protective clothing, a hat and sunglasses.
Pack plenty of food and water
To avoid dehydration, drink plenty of water the day before your trip. Pack a few water bottles and water-rich foods like fruit and lean proteins to snack on while fishing.
Carry an anchor
An anchor is one thing most first-time kayakers often overlook. A good choice is the folding anchor that is light and compact. Easy o store, an anchor will hold you in place and help reduce fatigue.
Bring gear for handling fish
Fish handling equipment includes nets, gloves, line cutters, pliers and more. If you are new to fishing, consider crimping the barbs on your hooks as unhooking fish is a skill in itself. Gloves are useful at managing fish with sharp fins or teeth. Unless you hooked a soft-lipped fish like a trout, which you can easily remove the hook with your fingers, a pair of pliers will come in handy. Look for a pair that tethers to your personal floatation device or consider a survival multi-tool. Nets are useful for scooping up the fish as you bring it close to the kayak. This allows you to leave the fish halfway in the water, easing the strain on your catch.
Keep a radio handy
As paddlers, it is very important to be able to communicate with one another when out on the water, but it's also important to be able to reach other vessels and even the Coast Guard in case of an emergency. One of the easiest ways to do that is with a VHF radio. Essentially, they are two-way radios that use frequencies that are already predefined for marine use. Every boat should have one and every boater should know how to use it. The Coast Guard will always be monitoring certain channels and you can find what channels to use at your local tackle shop or in a local guidebook.
Get the competitive edge with a sonar
A compact fishfinder can be a powerful addition to your day on the water. Today, most kayak manufacturers design their boats with electronics in mind including pre-cut transducer holes, wiring passages and storage compartments for batteries and screen covers. Marine electronics manufacturers are also focusing on the kayak fishing market, offering electronics bundles with the kayaker in mind. An example from Lowrance is an accessory pack compatible with the Elite Ti. The Lowrance Portable Kayak Kit secures the battery, transducer and display to a single box, making it easy to mount and remove from the kayak. The Lowrance kit includes a battery, charger, RAM® Mount swing arm, and YakAttack CellBlok battery holder with built-in transducer cable management that keeps excess transducer cable away from the active anglers. Lowrance also offers the ultimate transducer-mounting system for the sit-on-top fishing kayak – the Kayak Scupper Mount. Perfect for all Lowrance Skimmer® transducers, it's easy to install in almost any scupper opening without messy adhesives. The Lowrance Scupper Mount positions the Skimmer transducer, so it's totally submerged in the water you're fishing. That guarantees maximum sonar signal return sensitivity, producing the absolute clearest underwater returns of structure and fish possible.
Get some advice from a pro
Ron Champion is a seasoned tournament angler who grew up fishing creeks, ponds and reservoirs in middle Tennessee. He started fishing when he was about 5 years old with his dad. Coming over from the bass boat side of fishing, it didn't take long for Ron to make an impact in the kayak world. We reached out to get his insights on those extra special details you need to know.
What tips do you have on casting?
"When fishing big deep running crankbaits I always try to fish off the side of my kayak rather than casting straight in front. There is so much pull from the lure that you lose the depth of the lure when cranking. These baits pull your kayak towards them. Try casting to the side of the kayak and you will hit those depths that the lure is designed to go. Doing this is key when fishing offshore structure."
How do you rig your lures?
"I like to use a lighter wire hook on my jigs when fishing from a kayak. This allows me to get better hook penetration especially if I'm making long cast. A kayak is like a bobber floating on the surface and setting the hook on a fish you kayak will pull towards that target. If your using a heavy gage hook sometimes you will lose that fish because of poor penetration."
What kind of fishfinders do you recommend?
"I always suggest using the largest screen you can get away with and keep it in your budget. Lowrance has so many options now for kayak anglers that there is a graph for everyone. I personally use the Elite 9TI and it fits my style of fishing well and for a kayak angler having one transducer is key for me and the TotalScan Transducer allows me to have run Sonar, Down Imaging & Side Scan."
Where is your favorite spot to fish?
"I love finding fish deep in the summertime. That means scanning offshore ledges, ditches and any structure I can find. I have found that by maintaining around 3mph in my kayak I get a much better picture of the fish using DownScan and SideScan. This is key for me when locating fish for a tournament."
What advice do you have for the beginner?
"Don't be afraid to try new techniques fishing. On practice days if the normal is not working out, this is a good time to do something off the wall different. Try a new technique that you're not comfortable with and make yourself learn it. Too often we all get into a normal pattern that I believe the fish are actually patterning us. Throw them a curveball and go smash some bass!"
Now you are prepared to venture into the exciting world of kayak fishing. While everything we talked about really just skims the surface, with a little research, you can find much more detail on every topic covered here from kayak hull design to the right PFD for you. With all of the brands and constant innovation in the fishing industry, it is easy to get lost in a wave of information. But, don't forget that the reason you are doing this is to get a fish-eye perspective and reconnect with nature. You can't find that in a book or on a computer screen. So, get out there and give kayak fishing a try! Remember, there are no guarantees in fishing. Whether you catch anything or not, the one thing we can promise is you'll be hooked with a passion that'll last a lifetime.